Oxidative color? Acidic color? Metalic color? Natural hair color? Professional hair color is not just one! Learn how to become familiar with these concepts.
Hair color is not just the choice of shade! There are different types of hair colors on the market. You already know the most common types (or the most common division of professional colors) from our article Types of hairdressing colors - choose the right one!. However, sometimes you can also come across terms such as oxidative color, ammonia-free color, PPD-free color, acidic color, etc., and if you are not a hairdresser, you will find it very difficult to become familiar with them. Don´t worry, we here to help you with such tricks!
Oxidative Hair Colors
Oxidative hair colors are colors, that need an oxidation catalyst (usually hydrogen peroxide) to form a color molecule. Simply we can say, oxidative colors are all colors that are mixed with the developer (oxidant), so-called all permanent hair colors and almost all demi.permanent colors are oxidizing colors. The coloring cream is colorless or slightly colored and the color is formed in the hair itself due to the action of active oxygen (so-called oxidation) - and this is where the name of the oxidative color comes from. The resulting color is permanent, because even when using color remover we do not get the original color, because in parallel with the coloring, the developer partially dissolves natural melanin and lightens the natural color of the hair.
The basis of oxidative dyeing are therefore two components: color and oxidant
Color contains:
Base - it is a carrier of pigment, it can be in the form of a gel, oil or cream.
Pigments - dyes, that are initially very small and colorless. When they are activated by an oxidant, their number increases, they take on color and change their original color by sticking in the hair structure.
Alkaline substances - (eg ammonia hydroxide, aminoethylpropanol and ethanolamines) are used to open the scales of the hair cuticle, allowing the color to penetrate inside the hair. Ammonia is the most effective alkaline substance, a small amount will allow the exact level of lightening that a permanent hair color needs.
Care ingredients - restores the softness and elasticity of hair.
Oxidant contains:
Base - a liquid in the form of a gel or cream that facilitates application is a carrier of oxidizing agents.
Oxidizing agents - usually hydrogen peroxide. It is used to evaporate ammonia, which creates an alkaline environment. This lightens the original pigment and oxidizes the synthetic pigments. These grow and get caught between the hair microfibers.
Stabilizers - used to maintain a stable level of oxygen so that it does not evaporate.
Care ingredients - treat and restructure hair, restores softness and elasticity.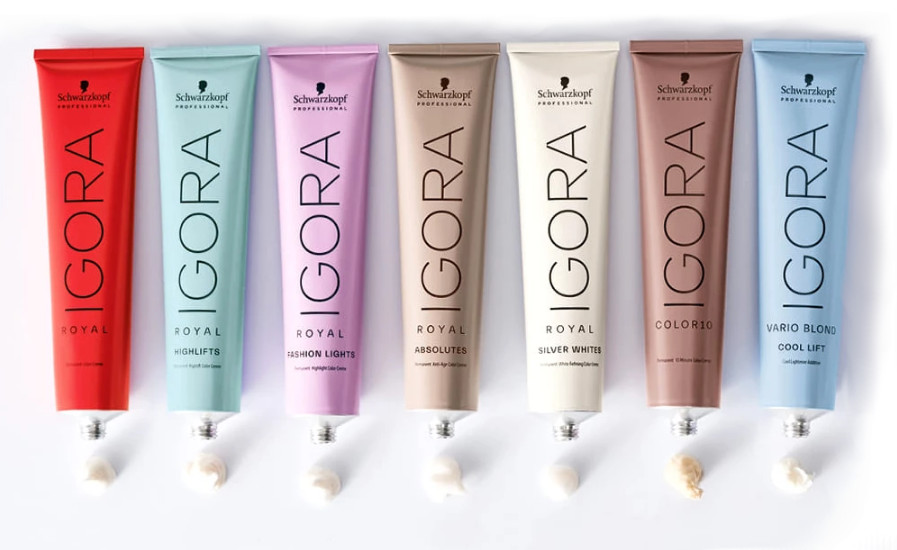 Non-Oxidizing Hair Color
This type of dyeing can also be called direct dyeing, which takes place without an oxidizing agent. These are colors, that do not require the use of a developer (oxidant). Oxidizing colors mainly include semi-permanent colors and one-day washable colors. The pigments used in the preparation are larger and are already visibly colored at the time of application (coloring cream is colored), they do not have to activate anything and it is not necessary to use a developer. This type of color is applied directly to the hair and the pigments are trapped directly in the cuticle. So they are stored only on the surface of the hair, they cannot penetrate inside the hair. The color effect is only temporary, the color lasts only a few washes on the hair. These products can not be used to lighten hair, as they do not contain hydrogen peroxide, and although they cover individual grays, they are not intended for dyeing gray hair.

Comparison of color technology Elumen (left), where the color does not penetrate inside the hair vs. permanent color Igora Royal (right).
Ammonia-Free Hair Colors
Hair color manufacturers are currently facing a new challenge. This is the increasing incidence of skin allergies. As a result, permanent oxidative ammonia-free colors began to appear on the hairdressing market, which do not cause so often irritation, but are still very effective. However, ammonia is not so easy to replace, as it is the most effective alkaline substance (it opens the cuticle), so manufacturers are at least trying to reduce it, e.g. permanent color Schwarzkopf Professional tbh has up to 50% less ammonia than traditional permanent hair color.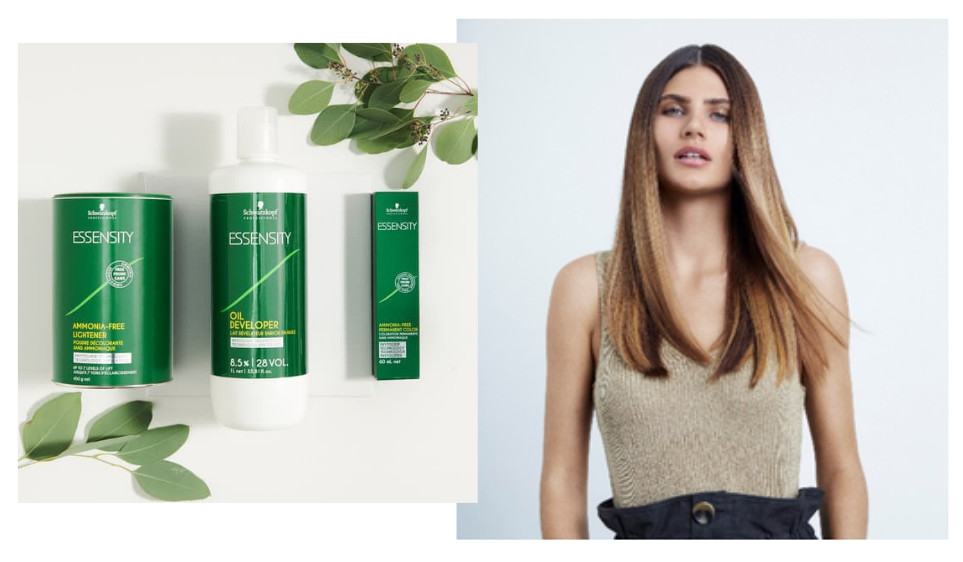 Hair Colors Without PPD/PTD
Allergies are also often caused by substances called PPD (para-phenylenediamine) and PTD (para-toluenediamine). These are the most common substances used in oxidative hair colors, which together with the oxidant create color. They are considered to be one of the most common allergens in color mixtures. That is why manufacturers are trying to market colors without PPD and instead of these ingredients, they contain finer substances, thereby reducing the risk of an allergic reaction. For example, in the colors Wella Koleston Perfect ME +, PPD and PTD are replaced by a new ME + substance, which reduces the risk of a new allergic reaction to hair color. However, if these substances do not cause you allergies, there is nothing to fear. Hair colors containing PPD / PTD are safe if the safety instructions are followed. These products are strictly regulated and there is a maximum limit to the amount of PPD / PTD that a product can contain.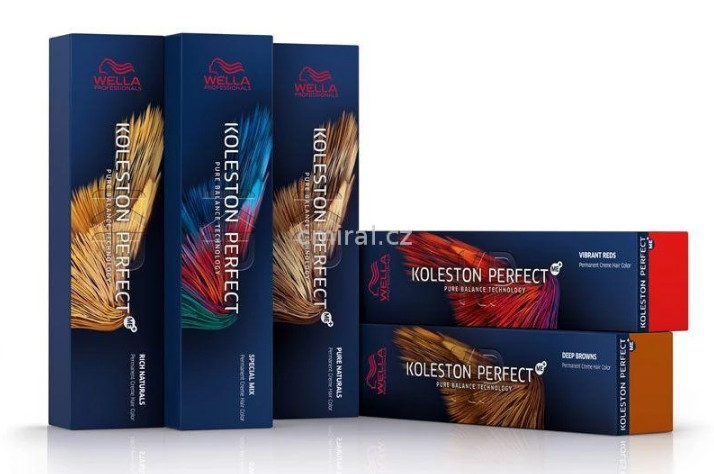 Natural Hair Colors
Natural hair colors (Voono, EOS, Botanea) include in particular henna, indigo, cassia or their combinations . The most common is Henna, which is a powder usually made from the plant Lawsonia inermis. These types of colors only tone the hair, so there is no significant change in hair color, but a deepening of the intensity of natural hair color. The darker the hair, the less the color change is visible. The color does not penetrate into the structure of the hair, it only wraps the hair with color from the outside, so it does not damage the hair ,destroys it, and on the other side takes care of it. It has a very fine composition that does not irritate and does not cause an allergic reaction. However, beware of products that only look natural. Some manufacturers also print the word henna on products that also contain the common allergen PPD, hydrogen peroxide, heavy metals and other chemicals. Therefore, read the composition carefully.
On the other hand, natural color also has its pitfalls. It cannot lighten the hair, it can only darken the hair and has a very limited range of shades Usually only darker warm shades, most often black, mahogany or chestnut, but eg L'Oréal Professionnel Botanea also offers a couple of warm blonde shades. Another big disadvantage is that henna cannot be combined with chemical color, because henna wraps the hair, which prevents the color from penetrating the hair. You will then have to wait until the henna has washed away or the hair has grown.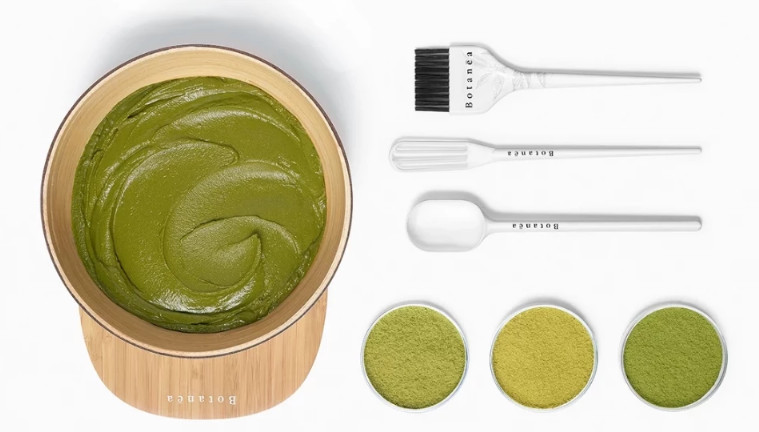 Acidic Hair Color
Hair is healthiest when it has pH 4.5-5.5 and is in a slightly acidic state. The bad news is that most dye products are alkaline because they must be able to open the cuticle so that the color molecules can penetrate the hair bark. Formulas that have less need to penetrate the hair are often less alkaline than those that need to penetrate deeper into the hair. Therefore, the greater the ability to lighten the color, the more alkaline it will be, and the other way round. This means that permanent hair colors usually have a higher pH (around H 9.0 to 11.0) than semi-permanent colors (8.0 to 9.0). Therefore, the so-called acid colors are found more among demi-permanent colors (Goldwell Colorance, Redken Shades EQ), semi-permanent colors (L'Oréal Professionnel Dialight, Wella Professionals Color Fresh) and toners (Matrix Color Sync Toner Sheer).
Acid color is therefore a type of low pH color that helps return hair back to neutral pH. It does not cause oxidation, there is no hypersensitivity in the hair fiber, and therefore it is more gentle on the hair. Not to mention that a more alkaline condition can also cause dandruff and affect grease. In addition, thanks to the acidic pH it closes the cuticle, smoothes the surface of the hair, and with that secure a high shine, intense and radiant color, thanks to which the hair will look as good after dyeing as if a mask had been used. On the other hand, wth these types of colors, hair usually cannot be lightened. To maintain healthy hair, acid-based dyes are often combined with permanent (alkaline) colors (eg Igora Royal + Igora Vibrance, Redken Chromatics + Shades EQ). This achieves optimal color and hair condition at the same time.
You can see the pH values of Goldwell products in the picture.
Metallic Hair Color
Beware, metallic hair color does not mean that it is a color that offers fashionable metallic shades. These are colors (metallic or metalloids) containing metal salt (lead, copper, silver, ..). These metal salts do not damage the hair because they remain on the surface and do not penetrate into the hair. They are commonly used in hair colors intended for men. They are also added to some shampoos. Staining occurs gradually during several applications. For this reason, they are in great demand in men to cover the first grays, who do not want an immediate, visible color change. They can only achieve dark shades and must not come into contact with peroxide (special activators are used), as the metal salt acts as a catalyst and could burn the hair. However, the result is often unpredictable, unnatural with a matte metallic appearance. Today, due to their predominant disadvantages, they are no longer used and have been fully replaced by oxidative colors that you know from hairdressing salons.
You may also be interested in → Types of hairdressing colors - choose the right one!