We all want celebrity hair. You'll absolutely love the new trend super shiny glass hair. Try glass hair not only short hair, but on all lengths. Read on to learn how to get the glass hair look for yourself.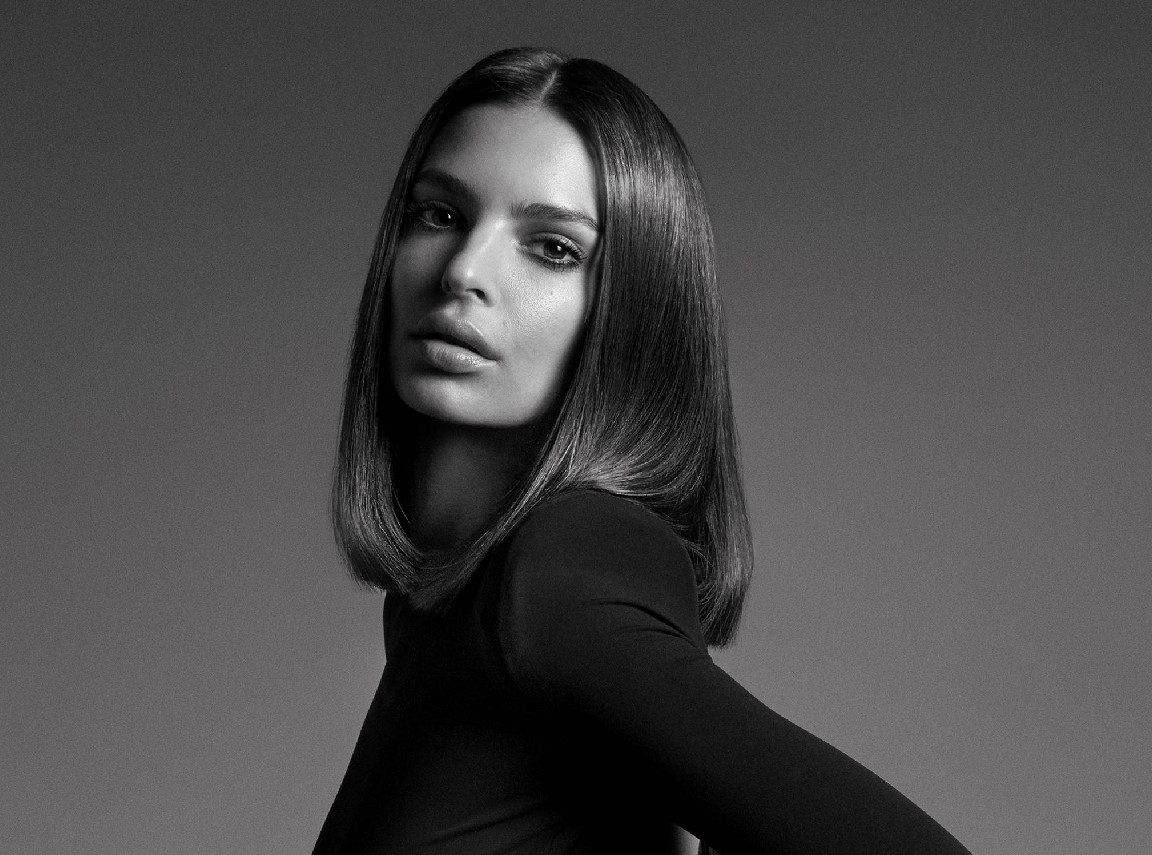 Glass-like, shiny style. This is the latest hairstyle trend that changes the DNA of a lob/bob. A key element of this trend is high gloss. The look should be as shiny as possible to look like a piece of, well, glass. Due to the megawatt shine, this hairstyle nearly resembles a mirror. It's essentially a blunt bob, styled dead straight, with a high-shine finish.
And how did it all start? Many of us remember the iconic hair moment when Kim Kardashian first sported the pin-straight, futuristic, ultra-shiny glass-hair look created by celebrity hairstylist Chris Appleton, known as "the man who is re-inventing Hollywood hair". He's styled everyone. Kim Kardashian, JLo, Ariana Grande, and Rita Ora...to name a few. He probably did not even know that the hairstyle will become one of the greatest trends of the 2018/2019 season.
What Is Glass Hair?
The typical cut is shoulder length hair - lob or bob.
The right haircut is very important. Haircut must be sharp, clean and straight to reflect light at every angle.
The whole premise of glass hair is to have super straight strands with ends that are an even length, without bangs and with a path in the middle.
Now comes the most important thing - high-shine. Shine imitating the appearance of glass.
Dark hair and brunettes have a greater potential to shine, but blondes can help with quality cosmetics.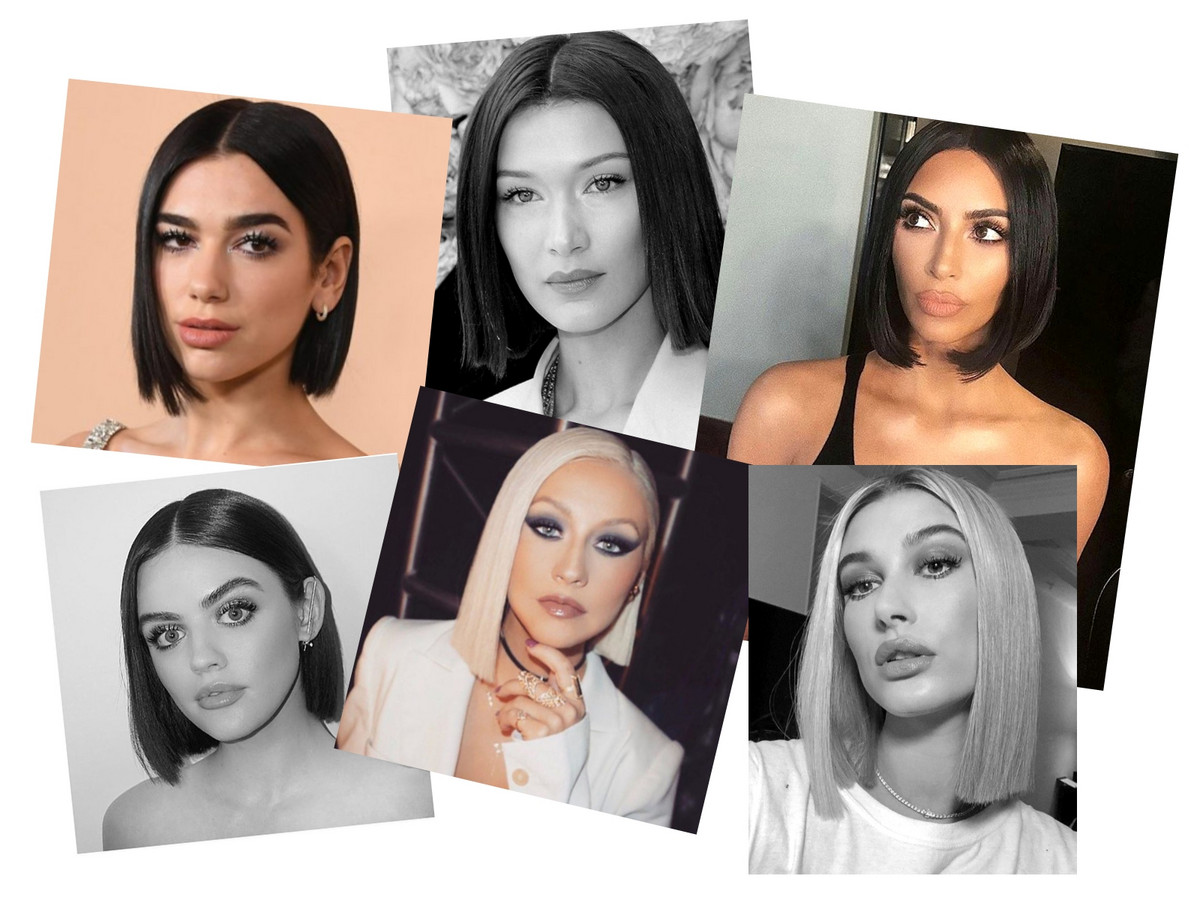 Glass Hair + Long Hair?
Typically, the look of glass hair is just below the shoulders. But everyone wants super shiny, luxurious, and healthy looking hair, no matter what their texture and cut looks like. Glass hair is a mood that can be achieved by everyone! With the right styling tools and products (Dream Coat, shine spray, Steampod) , however, you can achieve a glassy look even with extremely long hair. Just remember, longer strands are tougher to keep pin-straight and that's what you'll want for this look. Beware of frizz!. Frizz and uneven lengths are an absolute no-no (incompatible) with glass hair trend.
You may also have noticed new salon services for instant glass-like shine and fluid textures. For example Kérastase K Water with lamellar technology that not only delivers high-shine, but also repairs damage areas and restores quality of hair. Also a clear gloss coat at the salon can help seal the cuticle and create shine.
How Do You Style Glass Hair?
Ready for high-shine hair? Read on to learn how to get the glass hair look for yourself.
1) Glass Hair by Chris Appleton
Going for glass hair? You'll need Chris Appleton's secret weapon - Color WOW Dream Coat Supernatural Spray. This spray not only makes the hair texture incredibly silky, but it literally acts like a raincoat to block humidity, for days! Dream Coat's moisture-blocking technology is what makes stick straight, smooth-as-glass, frizz-free style possible.
First, you'll need a fresh cut to even things out and give you that blunt base.
Once your hair stylist has nailed the cut, your work lies in the blow-dry and choosing the right products.
Spray iconic Dream Coat on wet hair. It makes straight, smooth-as-glass, frizz-free style possible. Thanks to hairstyles stays straight until the next wash.
Blow dry your hair straight with round or flat brush (we recomend using brushes with natural bristles to create the best shine).
We recommended a high-heat blow-dryer with ionization blow dryer with ionization that delivers maximum shine (např. elchim 3900 Healthy Ionic Dryer).
When blow drying hair straight, make sure to point the dryer nozzle down the hair shaft. This will keep the cuticle layer as flat and tight as possible and that's the key to amazing, frizz-free shine.
Finish by running the flat iron over the hair (e.g. CHI Onyx Euroshine creating maximum smooth, sleek and shiny hairstyle) .
Spray Redken Strong Hold Hairspray directly onto the finished hairstyle for increased anti-frizz protection.
2) Glass Hair & Steampod
Or you can try creating Glass Hair with steam iron and Steampod products. This way is ideal for unruly and curly hair that is difficult to straighten.
Apply Stem-Activated Cream on damp hair.
Blow-dry hair through the brush to smooth.
Straighten hair with Steampod flat iron section by section.
Apply Steampod Serum for shine + 24H humidity protection