Do you plan to color your hair from the comfort of your home? Avoid the most common mistakes and find out how to color your hair without disaster.
Not everyone has the time to visit the hair salon. Sometimes dyeing hair at home is the only option (e.g. due to coronavirus). However, home hair dyeing can often end in disaster, especially if you are going to dye your hair for the first time. So, what to do and what to avoid to have the hair color result as you wish? Keep reading to avoid disaster.
Here are some of the biggest mistakes you could be making when trying to achieve a new hair color: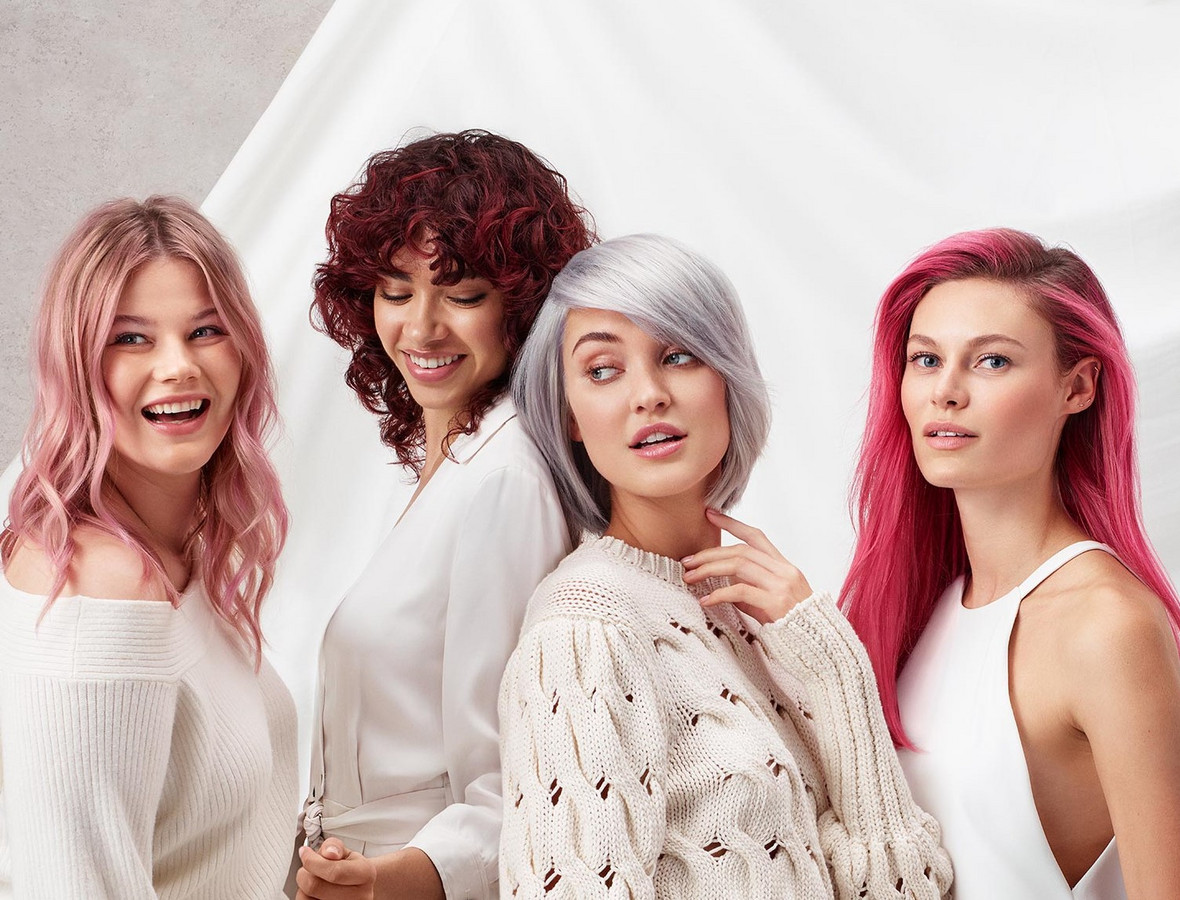 1) Choosing the Wrong Hair Color
If you want your hair colouring result as you wish, you do not make a mistake right from the start. Remember, choosing the right hair color is essential! Because each type of hair dyes serves a specific purpose.
If you are new to dyeing, choose a semi-permanent or temporary type of professional color first. These types of colors ensure that if you mess up, you won't have live with your mistake for long. Semi-permanent dyes will rinse out after 4-20 shampoos. The home environment is also not suitable for experiments or for radical change. If you are thinking about drastically changing, we'd recommend waiting for your hairdresser.
Don't forget to buy enough boxes of hair color. One box is not enough for long hair. If your hair is shoulder length or longer, you may need at least two boxes to cover your whole head, depending on hair thickness.
We also definitely do not recommend color from the drugstore. Neither your hair nor your hairdresser would be happy. Because drugstore hair dye could damage your hair. Hairdressing color is much more gentle, less aggressive and has more intense and lasting results. With the drugstore is the same as when you compare ready-to-wear clothes, that must work universally for everyone, with tailor-made dresses that are better quality and much better fit.
Choosing the right shade is also important. If this is your first time dyeing your hair, it's best to choose a hair dye that is no more than two shades darker or lighter than your own natural hair color. If you hesitate between two shades, choose the lighter one.
Before dyeing, we recommend reading our previous articles again: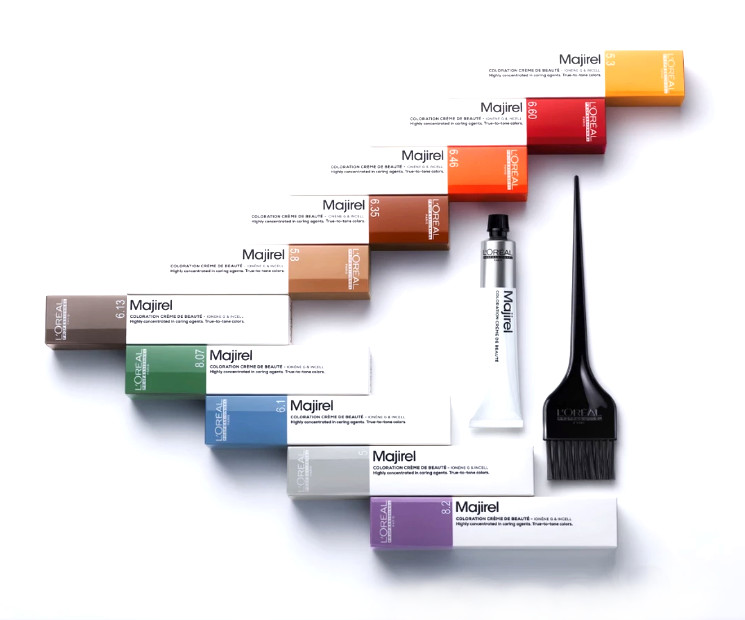 2) Inappropriate Developer
Another common mistake is that you use the wrong developer - from another brand or from another series. Even such a trifle can affect the dyeing result. The hair color could be uneven, spotty and the resulting shade inaccurate. Therefore, always mix every hairdressing colour only with a recommended developer which is designed for the colour. This is the only way to achieve controlled color results.
Another tricky thing is the power of the developer. If you want to get the best result, it is important to use the right concentration of the developer. The most widely used and versatile is the 6% developer. It's suitable for dyeing, lightening and for gray coverage. But for red shades, a stronger developer is better. 9% oxidant ensures a brighter and more vibrant red color. But remember, these are only the basic rules. The choice of developer will also depend on the type of color, degree of lightening, type of hair and quality of hair.
We wrote more about it here → How to Choose Right Volume Developer for Hair Color?
3) Hair Washing Before Dyeing
Don't shampoo immediately before dyeing your hair. Why? Because 1-2 days unwashed hair has a protective barrier on the scalp - it means there's less chance of any irritation and color pigment is better deposited. Also, just before dyeing, avoid using styling products (dry shampoo, hair spray, gels etc.). And blondies beware of silver shampoo. Don't use violet shampoo at least a week before dyeing. It's because all these cosmetics could disrupt the penetration of color into the hair.
Tip! Use a special deep cleansing shampoo 1-2 days before hair coloring to remove impurities and styling build-up.
4) Color Mixing From The Eye
A little color, a little developer and mix. No, it shouldn't look like this. Just think why would color manufacturers work with detailed instructions... Therefore, always follow the instructions exactly and measure the color carefully!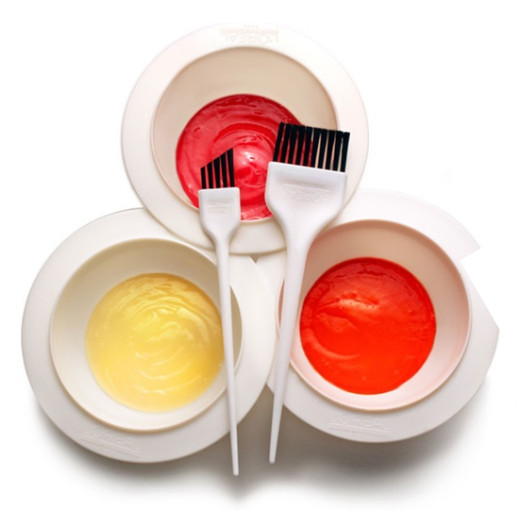 5) Unsuitable Dyeing Tools
Yes, you can also spoil the colouring result by choosing inappropriate tools. Always use only non-metallic dyeing tools. Because the color mixed in the metal bowl could behave unpredictably. Therefore, if you do not have a special mixing bowl, use any plastic, porcelain or glass. The same applies to other coloring aids.
6) Skipped Strand/Patch Test
Perform a skin allergy test 48 hours before each use, as allergies can develop suddenly, even though you have previously used a haircolor product from this brand or another. Apply mixture to the test area with a cotton swab or ball. Leave the color uncovered for 30 minutes. Then rinse the area with lukewarm water and pat dry with a clean towel. If no reaction has occurred, you are ready to color. At the same time also perform a strand test to check that your current hair colour reacts well with the formula. The strand test is key, especially when trying a new shade.
7) Not Applying the Product Correctly
Do not be surprised that if you apply hair color by random brush movements, the color result will be an uneven color. Apply the hair dye systematically in sections, strand by strand. This is the only way to achieve even color distribution. Professionals always section hair into four parts – down the middle, and then from ear to ear across the crown. In most cases, start applying color from the bottom section - from the neck, continue at the crown and work your way through to the front hairline. Also, always start with regrowths, then mid-lengths and finally ends. This is because the hair around the face is often more damaged and the dye on it works faster. It is also important to distinguish whether you are going to color virgin hair, colored hair or gray. The application procedure of hair dye is likely to vary.
How to do it right? Find out in our next article → How to Dye Your Hair at Home?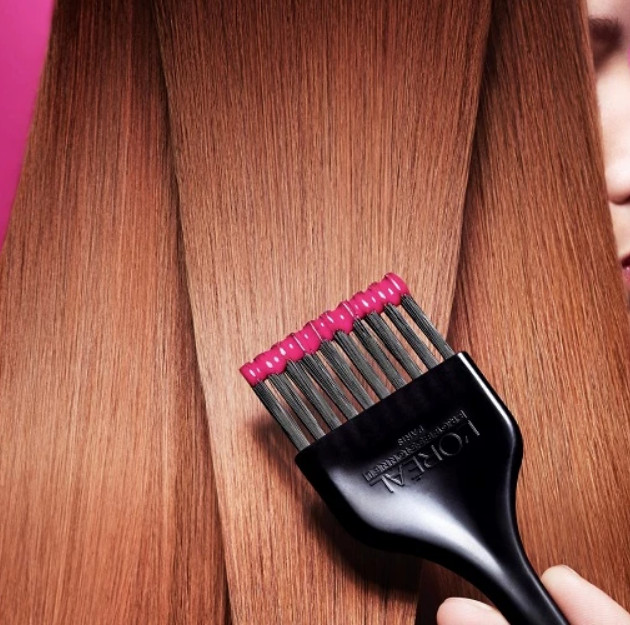 8) Incorrect Processing Time
Do not over or under process!! Follow the manufacturer's instructions. Some colors are very aggressive and could disturb the hair structure, if you exceed the maximum development time. If you take it off too soon, the color won't process perfectly. The usual exposure time is 35-40 minutes. During the first 15 minutes, ammonia opens the hair scales for color penetration. Between 15-30 minutes, hair takes over the desired color. And the last 5-10 minutes, care and protective substances for the health of hair are activated. The development time also depends on the texture, thickness, and length of your hair. People with different hair thicknesses and textures will get different results when dyeing their hair.
9) Poor Rinsing of Color
Rinse hair thoroughly after development time! Do not rush unnecessarily when rinsing the freshly dyed hair. Rinse your hair until the water runs clear. If the water is even slightly colored, continue rinsing. Then apply shampoo and conditioner. Sometimes shampoo can be omitted ( always follow the manufacturer's instructions).
Also avoid water for at least 2 days after hair dyeing. Because chlorine, salt and minerals found in H2O can cause hair's cuticle (outer layer) to lift, accelerating pigment loss. Give your hair enough time to properly absorb the new color. Waiting to wash allows the dye to more thoroughly penetrate your hair shaft. If you wash your hair too soon, the hair color could lose its saturation. What to do if you have oily hair? No problem. Use dry shampoo. Mainly wait. It's very important for the quality of your color.
10) Not Using Color Post Treatment
You should also not forget the post-color treatment. To neutralize oxidation residues and stabilize color, use a special Color Post Treatment. But the proper shampoo and conditioner can also prolong and protect the color from fading. Buy color care shampoo and conditioner for color-treated hair. Look for terminology such as "color protect," "color-preserving" or "for color" on packaging. They contain less harsh detergents and will help your color last. Beware of sulphates! Sulfates can strip natural oils from the hair and scalp, thus speeding up color decay. Do not also use deep cleansing shampoo and anti-dandruff shampoo because that are aggressive for colored hair.