5/35, 5/30 or 5? Which? What do those numbers or letters even mean? We advise you!
Every woman wants to have her hair color result as she wishes. But the color result is not always successful and thehair color may have an undesirable tint. How to avoid it? The basis is to choose the right shade of color. It, however, hides under those complicated combinations of numbers.
What do those numbers even mean?
Professional hairdressing colours are often labeled with numbers or combinations of numbers and letters:
Number before the slash (or decimal point, dash, dot) - an indicator of color level.
The first number after the slash - an indicator of color shade.
The next number after the slash - an indicator of color reflection.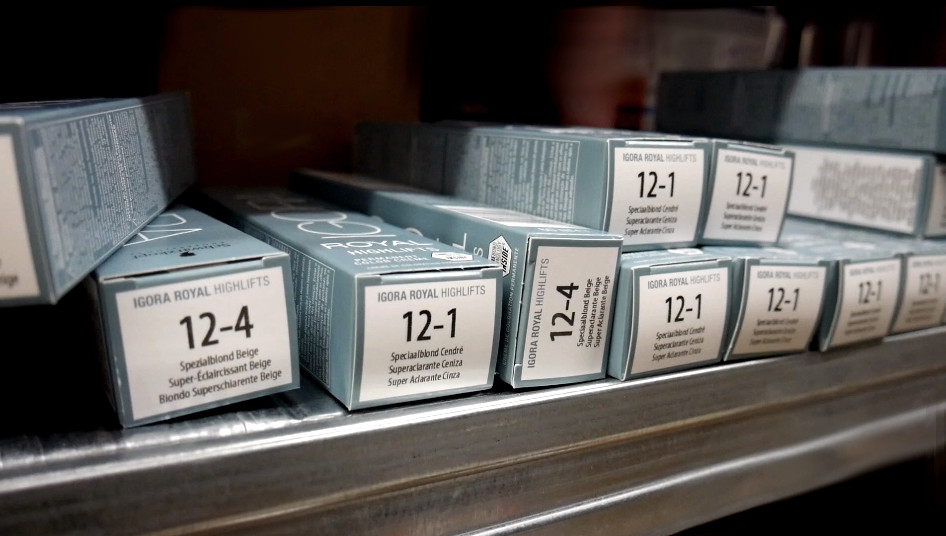 1) Level of Color = Depth Color
The first number which appears on the tube is the level of color (color depth). This number refers to how light or how dark the colour is, and the tone describes the hue or essence of the colour. The higher the first number is, the brighter tone is (ie. 1=black, 10=very light blonde).
Every brand has a slightly different this color numbering system. The level of color is used by all professional hairdressing brands. It is a universal labeling. Unlike the tone of color, where every brand chooses its own number or letter labeling. But the principle of labeling is very similar.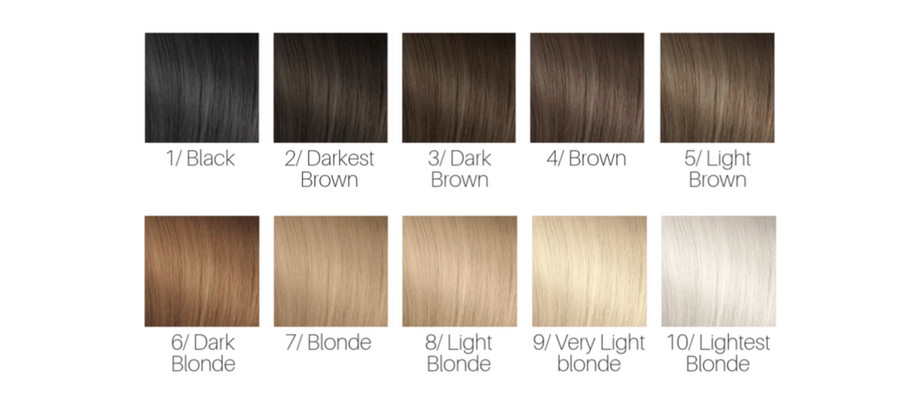 You may also meet with 11, 12 color depth and it usually indicates color for lightening process. You should always consult your color choice with the color chart of a particular brand.
GLAMOT TIP! - If you hesitate between two tones, always choose rather the lighter shade.
2) Tone of Color = Color Shades & Reflects
Others numbers (or letters), that follow the slash or decimal point, indicate the primary and secondary reflects/tones that are present in the colour. Every hairdressing brand uses a slightly different scale (see picture below). However, in general is that:
Major Tone of Color = Color Shade
The first number after the slash.

Refers major tone of color. These are color shades.

The color shade will more visible in final hair color.

The major tone also affects whether the resulting hair color will be warm or cold.
Minor Tone of Color = Color Reflect
The second (or third) number after the slash.

Refers minor tone of color. These are reflections of color.

The reflects of color will be less visible in the final hair color.
Here's what those numbers mean by the brand Tigi, L'oréal and Wella: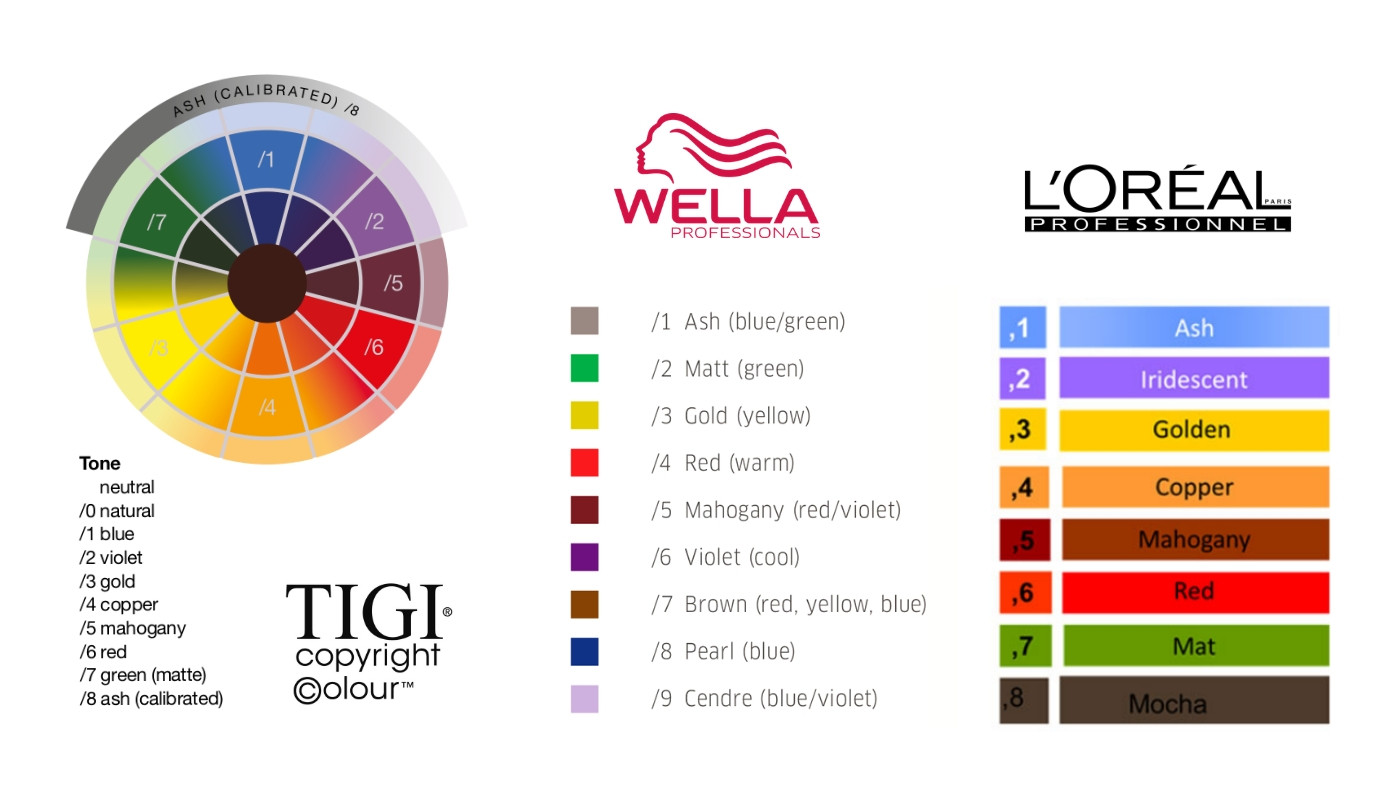 For example 8,34 (for L'oreal Inoa) means that it is a Light Gold Blonde with Copper reflects.
But, some brands of hair color use letters instead of numbers: e. g. Matrix or Goldwell:
/N – Natural
/A – Ash
/V – Violet
/R – Red
/B – Brown
/G – Gold
/C – Copper
/M - Mocha
/W - Warm
Then, for example connection: 3/RV = Dark Brown Red Violet or 9/AV = Very Lighter Blonde Ash Violet.
3) Examples of Hair Color Numbering - Measure Twice, Cut Once!
Duplicate numbers before the slash signify that the hair color is a very intense color with good ability to cover grey hair.

Duplicate numbers after the slash signify that the shade is an intense color.

A single number without the slash means that color is neutral. Neutral shade is a calibration complementary tone, that helps to achieve an overall neutral end result with enhanced uniform coverage on non-pigmented hair.

Zero after a slash (/0) denotes a natural tone. It is a combination of a complementary tone, designed with a slight warm hue.
For example for Tigi Copyright Color Creative:
7/32 - Golden Violet Blonde
77/66 - Intense Red Blonde
7 - Neutral Blonde
Shades and reflections can have more degrees of intensity, for example:
7/0 - Natural Blonde
7/03 - Natural Golden Blonde
7/3 - Golden Blonde
7/33 - Intense Golden Blonde
4) Mixing
This system also allows your colourist to neutralise the colour, so for example to avoid a blonde hair colour from becoming too warm.
During the lightening process, the undertone of the hair colour is taken through stages, from red through to very pale yellow. Taking this undertone into account is essential when deciding on certain product and processing time.
If you need to neutralize the underlying exposed pigments: decide if it is too red, orange or yellow, then just choose the complementary color that is opposite on the color wheel.
Opposite colors neutralize each other:
To neutralize the yellow base - use purple.
To neutralize the orange base - use blue.
To neutralize the red base - use green.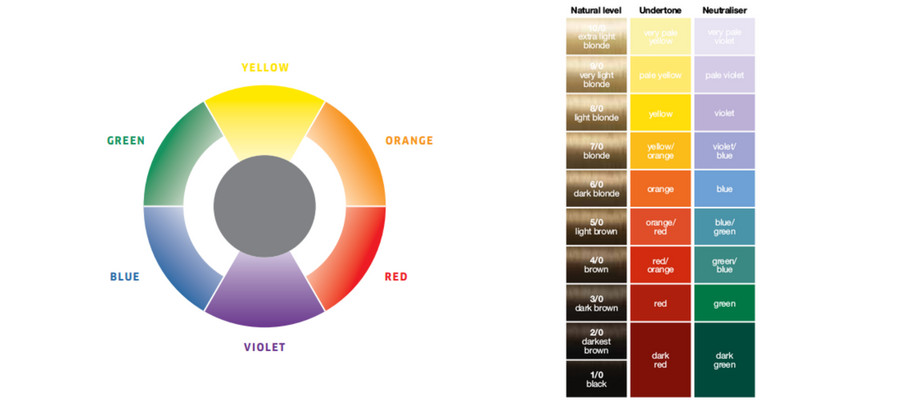 For example: Igora Royal - 0-11, 0-22 etc., Igora Color Worx Concentrates, Matrix SoBoost Additives, L'Oreal Majirel Mix, Wella Color Touch Special Mix, TIGI Copyright Colour Mix Master.
Remember! The outcome of your final target shade will also be influenced by several other factors: undercoat and distribution of pigment. Influence on dyeing is also from your hair type and the quality of your hair. If you aren't sure, always prefer to entrust your hair in the hands of professional hairdressers.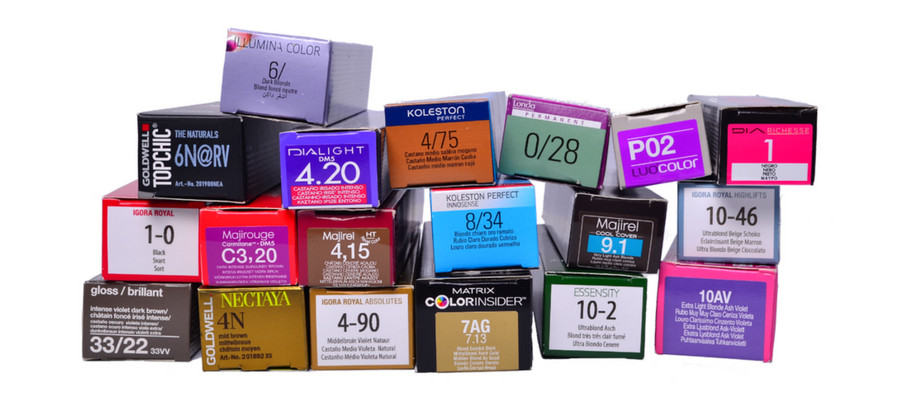 Do not miss the article → How to Choose Right Volume Developer for Hair Color?