Wella Professionals Koleston Perfect Me+ Special Mix
Professional cream permanent hair color for creative and personalized shades of hair.
Benefits
Offers pure, intense color injectors to intensify shades
Gives unlimited possibilities and special effects
Creates beautiful pastel tones over pre-lightened hair with Welloxon Perfect Pastel 1.9%
Clear shade (0/00) can be used to dilute the intensity of other shades
How to use
Pure application to intensify strands or sections of the hair, Koleston Perfect Special Mix can be used purely with Welloxon Perfect
To give exceptional, brilliant color results, apply to pre-lightened hair
Mixing ration
1 part Colour Creme (Koleston Perfect + Koleston Perfect Special Mix) mixed with 1 part Welloxon Developer
e.g. 30g Koleston Perfect + 2,5g Special Mix + 32,5 g Welloxon Developer
The lighter the basic shade, the less mix tone is needed
0/00 can also be used in different dilutions to achieve varying colour results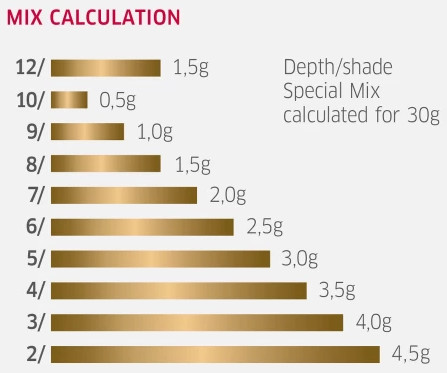 Warning
The product can cause severe allergic reactions. Read the instructions and follow them. This product is not intended for use by persons under the age of 16. Temporary black henna tattoos may increase the risk of allergies. Do not dye your hair if you have a rash on your face or a sensitive, irritated and damaged scalp, have ever had any reaction after dyeing your hair, have had a reaction to a black henna temporary tattoo in the past. Avoid contact with eyes. In case of eye contact, flush immediately with water. Do not use to dye eyelashes and eyebrows. Rinse hair thoroughly after use. Use suitable gloves. Do an allergy test 48 hours before each use of hair dye, even if you have used hair dye before. In case of any reactions or doubts, please consult a doctor before using any hair dye. Keep out of reach of children.