Classic or triple curling iron? Narrow or wide? Babyliss, ghd or Paul Mitchell? Which curling iron is the best? Discover the 8 best cirling irons for every occasion!
With so many options on the market, from narrow curling irons to wide curling irons, from ceramic to titanium, from tong curling irons to triple curling irons , it can be difficult to choose the best curling iron. A correctly chosen curling iron will save you a lot of time and worry. But how to find it? You don't have to go through thousands of user reviews to find the right one, to help you out, we've done an in-depth research on the different types of hair curling irons that work best with different hair types and needs. Here are the best of the best!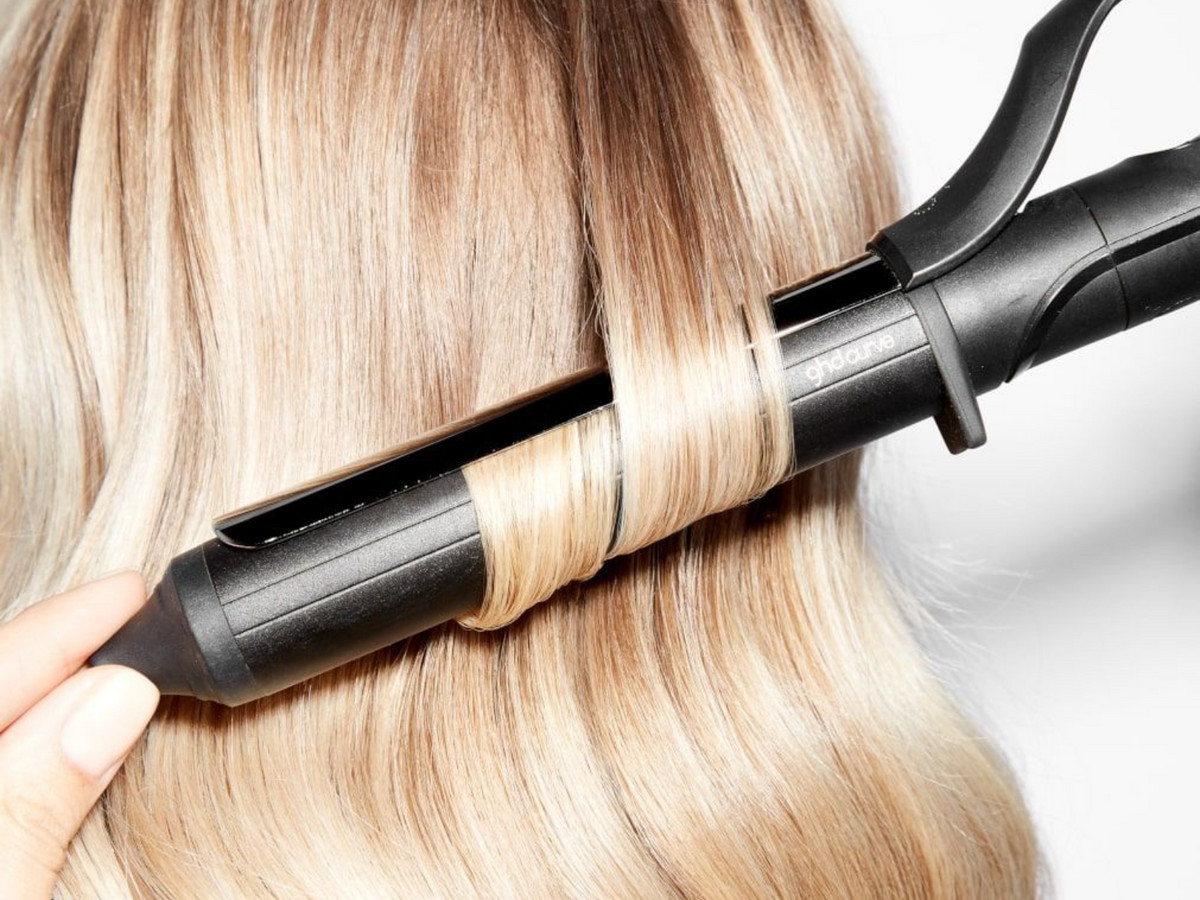 1) The Best Curling Iron that Won't Damage Hair
While no heat tool can be "damage free", the ghd Curve curling iron is a clear favorite among the gentlest curling irons. The curling iron is equipped with advanced technology that minimizes damage, which permanently maintains a safe temperature of 185°C. This temperature means that the hair will never burn, but the curls will be perfectly curled, shiny and flexible - the so-called a higher temperature would damage the hair, but a lower temperature would not curl the hair well. So you no longer have to worry about choosing the right temperature for your hair type. The optimal temperature of 185 ° C allows them to curl all types of hair in just 5-8 seconds without suffering any damage and at the same time they can stay curled for a full 24 hours. It is great both for very fine hair types prone to greater fragility, and for the most tenacious hair.
Suitable for: It is the best choice for those who often curl their hair or for fine hair types.
Key benefits: Optimum temperature of 185°C = minimization of heat damage.
2) The Best Value Curling Iron
Are you looking for a curling iron that won't break your budget, but still has top performance? Then the Elchim Dress Code Curling Iron will be the right one. Despite its lower price (in the professional industry) you won't find a single with it! You can create waves or curls with it easily, quickly and intuitively. In addition, ceramics and titanium maintain the perfect shape of the curls and maintain the health and integrity of the hair, which makes elchim curling irons suitable even for very stressed hair.
Perfect for: For those who don't want to spend a fortune but still want a quality, reliable curling iron.
Key benefits: The best price/performance ratio.
3) The Best Curling Iron for Beginners
Do you often accidentally burn yourself while curling? Or do you find curling with a classic curling iron complex and difficult? The unique and revolutionary automatic curling iron BaByliss PRO MiraCurl® MKII creates perfect curls, waves and perfectly shaped curls almost by itself! Although it has a hellishly intimidating appearance, it looks heavy and clumsy, but don't be afraid of that, use because it is very easy (especially for someone who always gets burned). All you have to do is separate the hair into individual strands and insert each strand into the chamber, press a button and - voila - the hair is curled. In addition, the curling iron MiraCurl MKII takes automatic curling technology to a whole new level! In a few seconds you can create 3 different types of curls - firm, medium or loose waves.
Perfect for: For those who are not so good at curling and for those who are just starting out with curling.
Key benefits: Creating curls and waves without burning, without effort and really extra fast.
4) The Best Curling Iron for Long Hair
Do you spend so long in front of the mirror that both your hands hurt before curling every strand of your hair? Having long and/or thick hair can be really troublesome at times. But don't worry, you don't have to cut or thin your hair. Curling iron label.m 4D Infinity Waver will save you from that! Its extra extended length and improved oval shape will make curling even extra long hair as easy as possible. The oval shape represents a new dimension of styling. It is specially designed for creating loose glamorous Hollywood waves effortlessly. Getting used to the oval shape does take some time, it takes some practice, but the results are really worth it. If you prefer a conical type of curler, you can choose the label.m 4D Infinity Curler also with an extended head length.
Perfect for: For those who spend hours curling their hair, especially for long, thick or thick hair types.
Key benefits: Extended head length for quick and easy curling of even the longest hair.
5) The Best Curling Iron for Thick Hair
Unruly hair types have trouble finding a curling iron that can tame their hair. However, this is not the case with the curling iron BaByliss PRO Extra Long Program Iron. The titanium surface reaches the highest temperature of all materials used for hair curlers and is very effective - it curls even the thickest hair very quickly and easily. In addition, this curling iron is equipped with SmartSense technology, it is actually a built-in microchip that regulates the temperature 50 times per second and thus ensures a particularly even result without temperature drops. And temperature is especially important when fixing unruly, thick, coarse hair or hair that is difficult to curl. Thanks to this, you will have curls that really last all day. Discover other types of bullets from the Neuro range.
Perfect for: For those who struggle to curl their hair. Ideal for thick, thick, thick or unruly hair.
Key benefits: Titanium surface for easy and quick curling of stubborn hair.
6) The Best Curling Iron for Colored Hair
If you dye your hair quite often, then youalso know how to take care of it, and you certainly know that heat styling "sucks" the color out of the hair. But what about when you can't imagine life without curling your hair? Professional curling iron Wella Professionals Pro Curl Color is your solution! It provides excellent styling and color protection in one! It boasts a special function for curling colored hair, which prevents ensures up to 55% less color fading due to heat styling. In addition, it prevents moisture loss and helps to quickly replenish the natural moisture balance of colored hair. It goes without saying that the ionization function, temperature setting and automatic shutdown are included. Available in a universal size of 24 mm and 32 mm for loose waves.
Perfect for: For those who want to keep their color vibrant and bright for longer.
Key benefits: Special technology to protect colored hair.
7) The Best Triple Barrel Hair Curling Iron
Are you longing for waves like from the sea, but a little more beautiful? Mermaid waves are a hot trend right now! The only thing you will need to create them is a curling iron. With the BaByliss PRO Waver playfully conjure up not only the "beach" look of a mermaid, but also the charming glamour waves of the 50s. The waves created by a triple curler will be more airy than those from a classic curler and will also last longer. The waves from the triple curler are rather flat, while the classic curler creates more rounded waves. The hair fiber during curling is taken care of by Titanium-Tourmaline technology, which guarantees high resistance and even distribution of temperature for ideal wave formation. The special S construction ensures ultra-fast fluffing of even the longest and thickest hair.
Perfect for: For those who crave trendy waves.
Key Benefits: Creates trendy mermaid-like waves.
8) The Best Versatile Curling Iron
Can't decide whether to get a curling iron or an iron? How about both? The multifunctional tool CHI Luxury 3-in-1 Hair Styling Iron is a curling iron and an iron in one! It can curl, curl and iron your hair. You can choose a setting for straightening or ironing your hair only, or turn on the Smooth & Curl function, which heats the outer and inner plates at the same time and allows your hair to be curled and straightened as you wish. And that's what completely changes the game! It will save you valuable time and a lot of worry. Thanks to this, you will not be late for all the festivities.
Perfect for: For those who love different hair styles and don't want to have a million tools at home.
Key advantages: Can create curls, waves and can straighten hair.
When shopping for a new curling iron, there are a few attributes and features you should consider to make sure you choose the right curling iron for your hair type (and your needs!). Also read our article Hair curler: how to choose the best one? where you will find everything you need to know before buying a new curling iron.