Unlock the next generation in anti hair-fall haircare for her & for him and live to the fullest. Meet the full range of Genesis and Genesis Homme!
Kérastase presents Genesis, a complete professional luxury hair-fall system. Its dual approach utilizes Kérastase science to tackle the two main causes of hair-fall.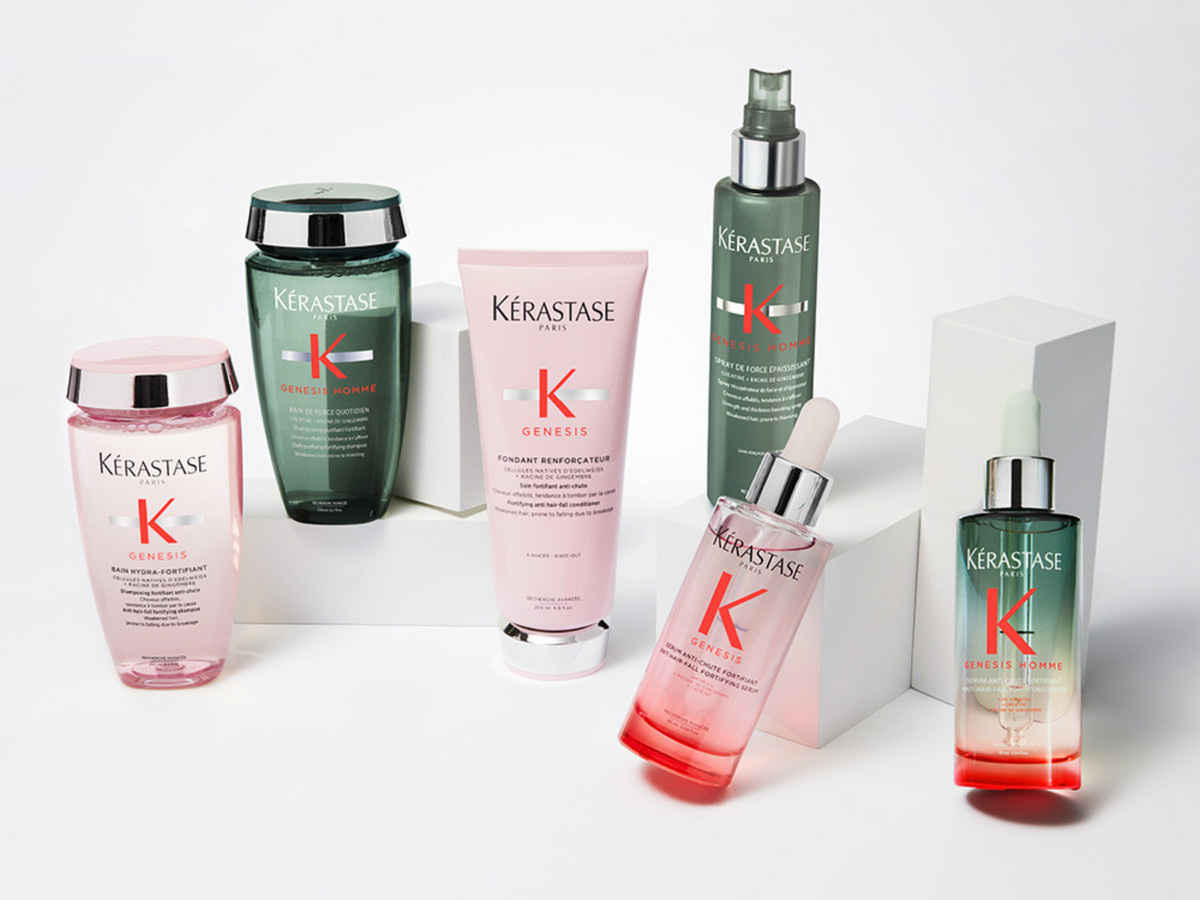 #NEVERBEAFRAIDOFFALLING
The Science Behind Hair-Fall
Kérastase researchers observed that premature hair loss was accompanied by a thickening of the sheath around the hair follicle. Collagen accumulates there and becomes rigid, keeping the hair from anchoring itself deeply and solidly in the root. The hardened sheath puts pressure on the bulb, inhibiting the microcirculation that carries nutrients to hair. With insufficient nourishment, the miniaturized follicle produces a thinner, weakened fiber that can fall out prematurely.
Visible Results
GENESIS for women
-84% HAIR-FALL*
GENESIS HOMME for men
5 X FULLER HAIR**
*Less hair-fall due to breakage. Instrumental test on Bain Nutri-Fortifiant + Masque Reconstituant + Sérum Anti-Chute Fortifiant.
**Instrumental test on Bain de Masse + Cire d'Épaisseur Texturisante + Sérum Anti-Chute Fortifiant.
Choose Your Routine
Meet the full range of Genesis and Genesis Homme anti hair-fall products. With a customizable routine, the two ranges answer directly to the concerns of hair-fall thanks to their different active ingredients that are tailored to the specific biological hair fall needs for both men and women.
For Women: Kérastase Genesis
With the powerful Kérastase Genesis hair care products that address hair fall due to breakage from brushing, your days of seeing hair on your brush are finally over.
The Concern: breakage + hair-fall from the roots
The Solution: Genesis with Edelweiss Native Cells + Ginger Root + 1.5% Aminexil
For Men: Kérastase Genesis Homme (NEW!)
For a long time, it felt like an inevitability for many men, but today men's hair loss can be slowed down and prevented. Kérastase Genesis Homme collection is infused with hair growth ingredients like creatine, ginger root, and aminexil (a powerful alternative to minoxidil) to fortify the hair root and helps to slow the hair fall.
The Concern: thinning fibers + hair-fall from the roots
The Solution: Genesis Homme with Creatine + Ginger Root + 1.5% Aminexil