Description
A revolution, high-concentration direct dye additive for creative customisation of hair color. Developed to work exclusively with Topchic, Colorance and Nectaya.
Imagine color. Now multiply it.
Benefits
Creates a new category of hair colour services: Colour Morphing, Colour Boosting, Colour Washing
6 high-concentrated tones for a unique play of color reflections
Elevates hair color with unprecedented vibrancy and brilliance, gives up to 63% more shine
Creates never-before-seen high-definition, multi-dimensional effects
Boosts the colour intensity of the colour formula by up to 3 times
Provides long-lasting color results, up to 2x more resistance to color fading
Integrates easily into your favorite formulations
Technology
HD3Colour Technology - forms a very special dye pattern in the hair fibre. It creates a concentrated ring of colour around the outer regions of the cortex for unique multi-dimensional, high-definition color results. And as the HD3 dye is not based on a chemical reaction, but is a physical dye, it is also very gentle to the hair and scalp.

Elumenated Hair Color - a special layering of color creates 3D effect that changes and morphs as light hits it.
Shades
Yellow, Orange, Red and Violet - create vidid tones and effects
Pearl Blue and Matte Green - soften and counteract unwanted tones
How to use
Use Topchic, Colorance and Nectaya as per normal usage instructions. Then add the pure pigments and mix together with color mixture. You may add up to 10% of the @pure pigments to the final color mass. Process as usual. All processing time are as manufacturer's instructions. After development is complete, remove color as per normal manufacturer's instructions.
Mixing ratio: up to 10% of the @pure pigments to the final color mass (i.e. 40 ml Colorance lotion + 20 ml Colorance color = 60 ml mass + up to 6ml (10%) of the @pure pigments)

Development time: according to hair color instruction

Measurement with the pipette: 0,04 = one pipette drop, 3ml = 75 drops (one full pipette) , 6ml = 150 drops (two full pipette)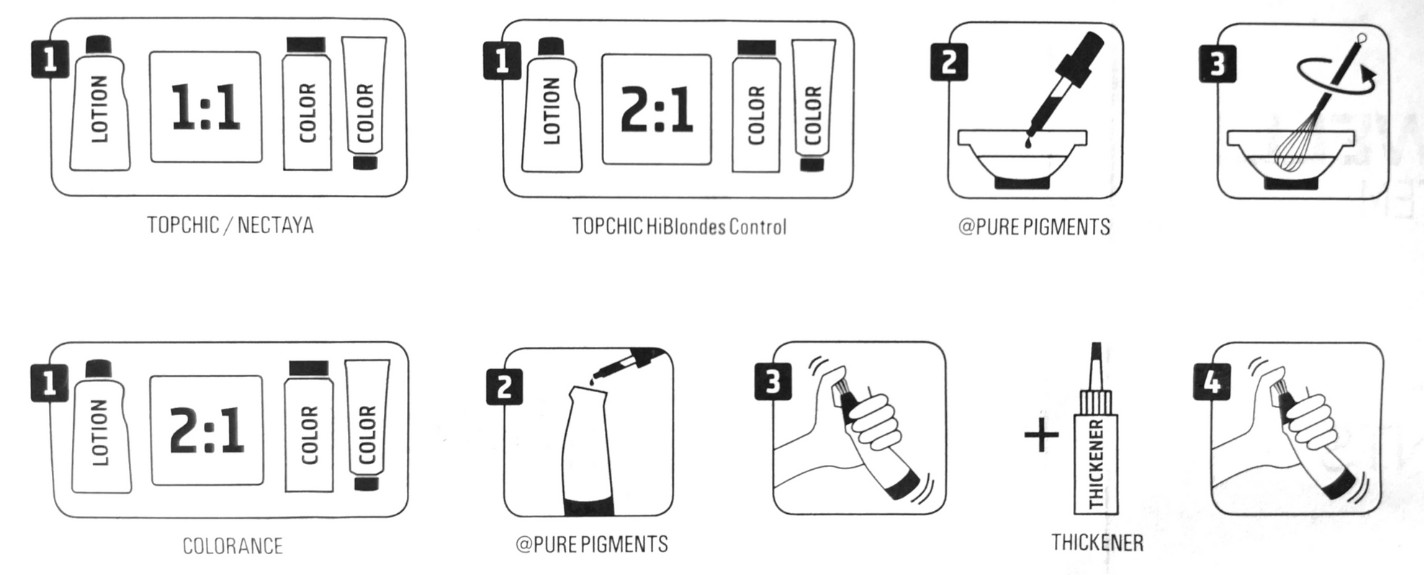 Do not use the @pure pigments mixed with shampoo, conditioner, treatments, Elumen, SilkLift, SilkLift Control or Oxycur Platin.