No more compromises! Kérastase presents a new vision of anti-dandruff. Discover Symbiose, a long-term efficacy allied with luxurious care.
If dandruff flakes have got you down, know that you're not alone. Dandruff is one of the most common scalp concerns with 2 billion women worldwide experiencing unwanted dandruff flakes, but only 17% of them use anti-dandruff hair care products. The reason? Anti-dandruff products are often focused only on the anti-dandruff effect, have an unpleasant smell, do not respect the sensitivity of the scalp and provide almost no care for the hair fiber. Women were forced to choose between dandruff treatment and luxury hair care. But that's over now!
For the first time on the anti-dandruff market: you will not have to compromise anymore. With Kérastase Symbiose you can enjoy instant benefits and long-term anti-dandruff efficacy allied with luxurious care. Symbiose's indulgent formulas mean you don't have to compromise on your luxury in-shower experience when you want to wave goodbye to dandruff flakes.
#ALLIANCEISPOWER
What are the Kérastase Symbiose Benefits?
At the beginning is a revolutionary scientific discovery - a cellular renewal disorder. Kérastase has discovered that contrary to what has always been told, dandruff is not only a hygiene issue that is caused by bacteria. It's actually caused by the accelerated speed of cellular renewal. We all shed our skin. In fact, humans shed their entire outer layer of skin every 2-4 weeks. A healthy scalp usually renews its cells every 14 days but when dandruff occurs the skin overproduces cells and the renewal process takes just 7 days. Normally, these dead cells are washed away by shampoo and are not visible in the hair. However, in a dandruff scalp, cellular renewal speed is 2x faster than a healthy scalp. The cell layers of the skin don't have enough time to naturally regenerate and dandruff forms.
So the new line Symbiose was born - new vision of anti-dandruff haircare. At the cellular level, Symbiose acts more deeply than existing anti-dandruff products, it allows you to immediately remove visible dead skin cells, regulate the cellular renewal speed and restore the balance of the scalp. Plus, it replenishes fiber moisture for healthy hair again. The power of Kérastase Symbiose is not only in the extraordinary efficiency of the products, but also in the unique long term anti-dandruff efficacy allied with luxurious care. The Symbiose has been formulated so you can still enjoy a luxurious hair washing experience whilst also functioning as an effective dandruff treatment. That's why the care provided by the Kérastase is incomparable.
What's Inside Kérastase Symbiose?
Symbiose is a new range of hair products formulated to treat the causes and symptoms of dandruff with three key ingredients:
Salicylic Acid - acts immediately to dissolve the unwanted flakes with its ability to exfoliate and cleanse the scalp;

Bifidus - a probiotic derived extract: since we know that the unwanted colonization of micro-organism on the scalp can contribute to dandruff, it's important to focus on feeding a healthy eco-system, which bifidus does;

Piroctone Olamine - alongside bifidus, this regulates the microbiome imbalance, tackling the unwanted malassezia restricta microorganism and preventing dandruff flakes.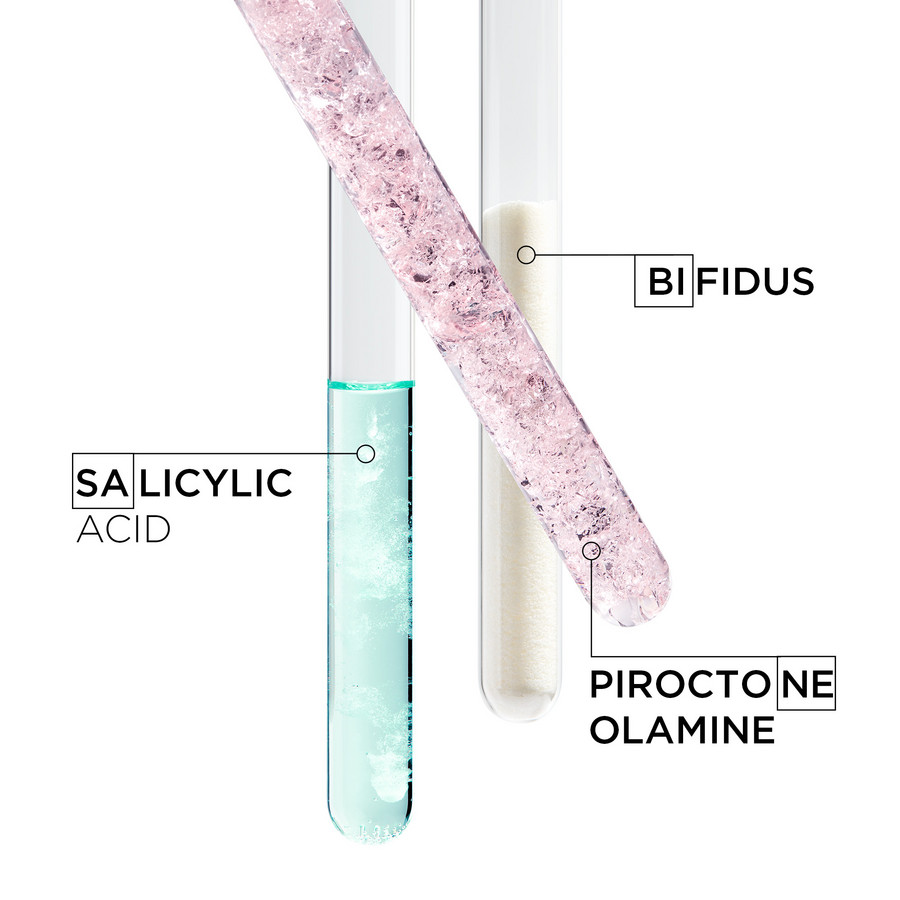 Find Your Ultimate Anti-Dandruff Haircare Routine
Every woman, every hair and every scalp is different. Find Kérastase Symbiose routine that suits you the best. Whether you have an oily or a dry scalp, we have the best solution for you.
1) Dandruff & Dry Sensitive Scalp?
Often dandruff is linked with excess sebum but it can also affect dry, sensitive scalps. If you have small and white dandruff, that tends to fall on the shoulder, you may have a dry scalp.
For a dry scalp we recommend using the routine with the Moisturising Anti-Dandruff Shampoo. It helps remove visible flakes and dandruff without stripping hair fiber. We recommend following up with the lightweight Detangling Soothing Cellular Conditioner which leaves your hair intensely hydrated. This routine will calm scalp sensitivity, moisturize scalp and remove dandruff & flakes.
2) Dandruff & Oily Scalp?
If you have large and yellowish dandruff, then you may have an oily scalp.
For an oily scalp we recommend using the routine with the Purifying Anti Dandruff Shampoo that cleanses sebum build up whilst removing visible dandruff and flakes. Followed with the Intense Revitalising Mask to soothe discomfort and replenish hair moisture. This routine works immediately and long-term in oily hair to reduce the irritation, remove the unwanted flakes and keep unwanted dandruff and oil at bay.