From a brunette to blonde during one day? Dyeing without damage? Is it a sci-fi? No, it's OLAPLEX - a revolutionary hair product that will change your life! Find out how.
We've already heard a lot about the Olaplex: "Olaplex is a miracle", "The end of damaged hair" or "Revolution in hair dyeing without damage" and so on. But is it a true? It may all sound like a sci-fi, however, the practice persuades us constantly that it's not.
Just remember on the incredible transformation of Kim Kardashian, who has become a blonde day-to-day. That was impossible until now. But she wished to have her dark hair back very quickly. And because her hairdressers knew the secret of Olaplex, her wish was fulfilled. And that was the moment when the Olaplex earned attention of each of us.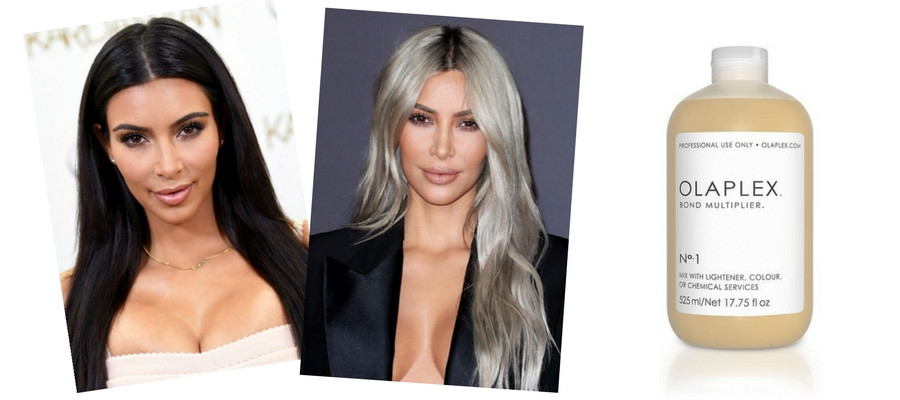 OLAPLEX: How One Ingredient Changed Everything
To understand how this product is revolutionary not only for hairdressers but also for you, we start from the beginning.
Already with the first hair colors and lighteners, the manufacturers tried to develop the most gentle products. However, disulfide links inside the hair were still broken during dyeing and bleaching. Even with the most gentle procedure followed by intensive regeneration with hair mask. It was clear that something must be changed.
Hairdressers knew how disconnect disulfide bonds - during colouring, lightening, perming or straightening services. The question was how to bring these links together again. And then the Olaplex came.
What Is OLAPLEX?
Olaplex was developed by Dr. Craig Hawker and Dr. Eric Pressly. They both came from outside the world of cosmetics science. Perhaps that is why they have succeeded in developing an unique chemical compound Bis-Aminopropyl Diglycol Dimaleate, which is free of silicones, oils or toxic factors. And just this patented chemical compound is a single active ingredient, designed to reconnect the disulfide sulfur bonds broken by the process of permanent hair coloring and lightening. And the miracle named Olaplex was born.
But Olaplex is not a lightening powder, an activator or neutraliser. It's not even a product that will improve your color effect. It is the original, unique and patented chemistry that multiplies bonds and cross-links broken bonds. Olaplex is the only product of its kind.
Olaplex can also be used as a stand-alone treatment that leaves your hair stronger, healthier, softer, shinier and easier to manage after the first use.
How OLAPLEX Works?
Olaplex Hair Treatment system consists of 3 bottles (three phases): Olaplex N°1 (only available as the Olaplex Travel Kit or Olaplex Salon Kit), Olaplex N°2 and Olaplex N°3. The first two bottles are intended only for the professionals in the salon, the third for home use only.
1) Olaplex Bond Multiplier N°1 - Beginning the Rebuilding
Olaplex No.1 is the concentrated first salon step for the beginning of the hair rebuilding. It contains 100 % of the patented ingredient Bis-Aminopropyl Diglycol Dimaleate, which rebuilds and repairs broken disulfide bonds of the hair. It's added to pre-prepared blends of colors/bleach powders and developer. Remember that less means more!
2) Olaplex Bond Perfector N°2 - Pursuing Hair Perfection
Olaplex Bond Perfector No.2 contains 15 % of the same active ingredient found in No.1, however developed as a cream form for easy application. May be used any time! Before, during hair colouring but especially after a colour service for the best results. It provides the closure dyeing and continues to rebuild and restore any remaining broken bonds. Also reduces porosity of the hair and increases hair elasticity and shine. But it's not a hair mask. Then you need to use a condicioner or/and a hair treatment.
3) Olaplex Hair Perfector N°3 - Lasting Protection at Home
Olaplex Hair Perfector No.3 is the final step. It contains the same active ingredient as the No.1 and No.2. It gives to clients to use weekly at home to continue the strengthening of bonds and ensures repair between salon services. In addition, it protects hair from mechanical damage even from external influences (UV radiation, wind, etc.).
Please note that the Olaplex No. 3 Hair Perfector is not a conditioner or treatment. After Olaplex No.3 Hair Perfector should be always be followed by a thorough rinse and shampoo. Then it is necessary to use a condicioner and a hair mask.
Can you use Olaplex No.3 if you haven't used No.1 and No.2? Of course. The Olaplex Hair Perfector No.3 contains the same ingredients and you also achieve a visible hair improvement. Although Olaplex works best as a three-step system.
Can You Use OLAPLEX on Natural / Virgin Hair?
Olaplex offers many options and can be used by anyone. You can use it on virgin, not dyed hair and even for hair extensions. It's also great for fine hair to tame ratty, unmanageable hair. In this case, use Olaplex as an intensive stand-alone treatment - Rebuild Treatment (mix 15 ml No.1 and 85 ml water, processed 5 minutes, do not rinse and apply No.2, processed 20 minutes and rinse well with shampoo).
You can buy Olaplex to your hairdressing salon or for home use → OLAPLEX.