What is the difference between ceramic, tourmaline or titanium iron? What is the advantage of ionic straightener or steam straightener? Learn more!
Ceramic, titanium, or tourmaline? Are you struggling to determine which straightener is best and gentlest for your hair? Do you not understand terms like steam or ionization? These are the most common questions that interest you. We know that sometimes it can be really difficult to choose a straightener that will serve you the best. The range of options is truly vast. That's why we have prepared some tips and advice on how to choose the right hair straightener that will be tailored to your needs!
Before buying it is very important to realize that different kinds of flat irons can make different sorts of effects. Of course, their primary function is to straighten hair, but they can also wave it and curl it, depending on how you use them.
1) Material of a Hair Iron?
Ceramic
Ceramic plates are the most common. The ceramic technology allows it to warm up very quickly (within 10 seconds) and ensure even heat distribution. A golden mean for all hair types.
Tourmaline
Tourmaline plates radiate negative ions and infrared heat, which keep moisture and shine in hair. They also protect against frizz. With tourmaline you achieve a good effect even at a lower temperature. Therefore tourmaline flat irons are the best for fine, thin and damaged hair.
Titanium
Titanium plates are lighter, the most durable and achieve the highest temperatures.
They are highly efficient - the hair is straightened after the first pass!
The titanium technology allows titanium hair irons to heat up faster than ceramic hair irons.
Titanium also has ionic charge, which helps to make your hair look smooth quickly and without undesirable burning.
The best for thick and coarse hair.
Teflon
Teflon straighteners are also very gentle as they protect the hair from high temperatures during straightening.
They provide smooth glide without snagging, and additionally, they prevent styling products from sticking to the plates.
Teflon heats up the fastest, reaching the desired temperature more quickly than other materials.
Other Types of Surfaces
There are also various combinations of these materials that combine the advantages of individual materials. The most common is the ceramic-tourmaline combination, which is a suitable choice, especially for fine hair, and ceramic-titanium offers a wide range of temperature settings, ideal for professionals.
There are also other types of plate surfaces, such as metal, which were mainly used in early straighteners. However, this material is completely unsuitable for hair straightening as it poses the highest risk of damage. Fortunately, we no longer encounter metal straighteners.
You may also come across plates infused with oils, such as the CHI Luxury Hairstyling Iron.
2) Size of Plates
Narrow
Narrow plates are ideal for shorter hair and to create waves.
Small hair irons are also perfect for styling bangs and spikes, and they are great for travelling.
The most favourite hair straightener for travelling is the BaByliss PRO Babysleek Mini Pro Straightener.
Classic size
Classic plates are the most versatile.
These irons are suitable for all hair types and hair lengths.
They are usually in a rounded design, which is great to create waves.
Wide
Wide plates have a bigger ironing surface and are a good choice for individuals with long or thick hair.
The disadvantage is that it is usually not suitable for curling the hair, so it is primarily designed for straightening.
3) Shape of Straightener
Flat Shape
Flat shape is not good to create beautiful waves or curls.
Rounded Shape
Rounded shape can also be used as a hair curling iron and you can create kinks in your hair.
For example with the CHI Luxury 3-in-1 Hair Styling Iron you can achieve exactly the same effect as with curling.
Crimped Hair Iron
Crimped hair iron forms a special category.
Crimped irons are especially popular to supply volume to hair and make a trendy, special hairstyle.
Hot Brush
Hot brush is a new innovative solution to ensure a smooth and sleek hairstyle.
It combines the functions of straightening and brushing. Taht's why this revolutionary concept reduces styling time.
These hot brushes offer e.g. ghd Glide Hot Brush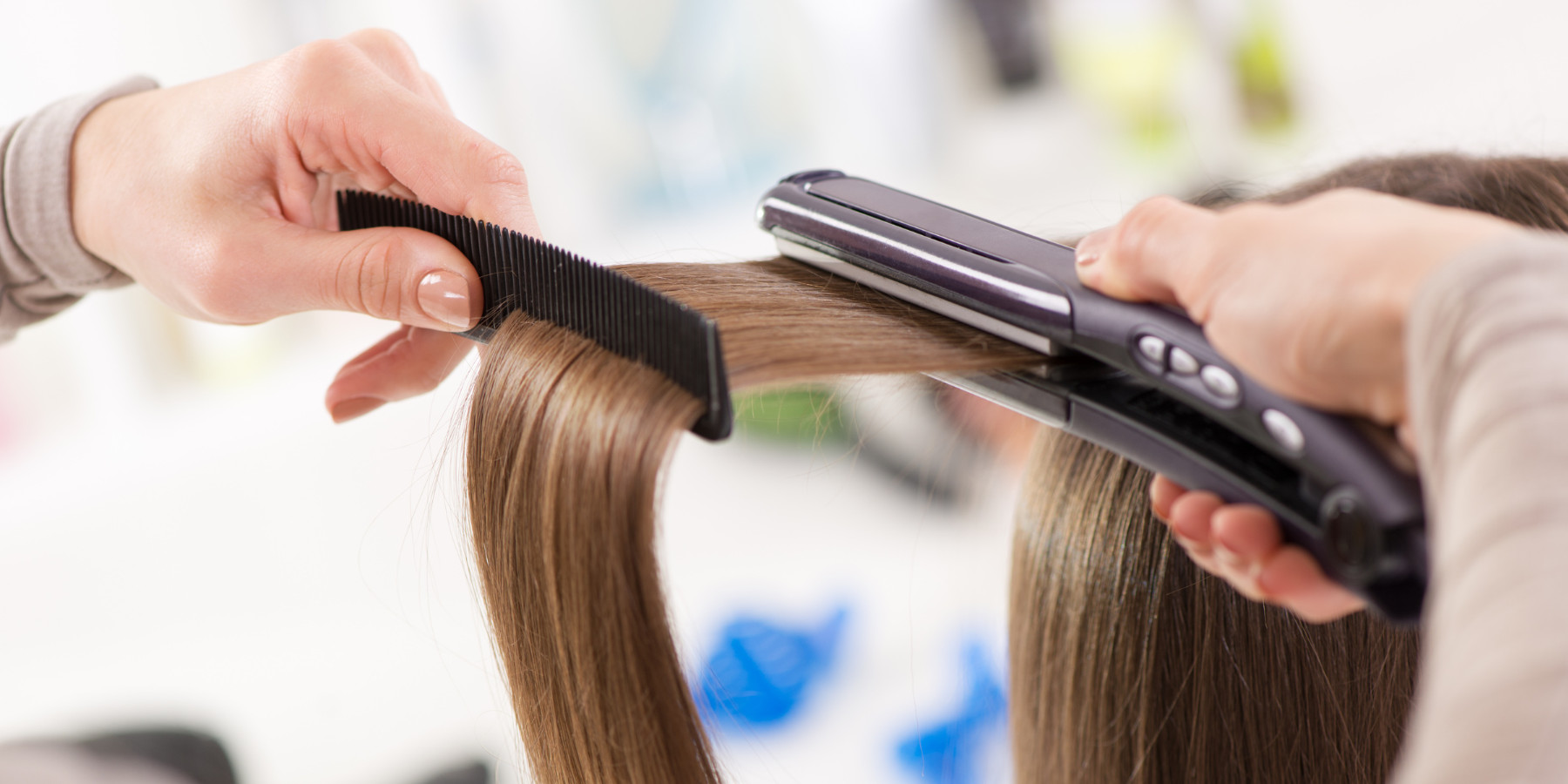 4) Special Technology
Ionization
Flat irons with ionization function emit negative ions, which are transferred to the hair during straightening and neutralize the positively charged ions present in the hair.
Negative ions have the ability to seal the hair cuticle and retain moisture, resulting in shinier, smoother hair with an overall healthier appearance.
The ionization function also works to combat frizz and static, which is especially beneficial for owners of dry, wavy, and curly hair that are more prone to this undesirable phenomenon.
Steam Technology
Steam flat irons are designed primarily for straightening stubborn hair that regular flat irons often struggle with.
Steam technology minimizes thermal shock, reduces the impact of high temperatures on the hair, and also speeds up the entire straightening process. This ensures gentle and fast styling even for highly resistant hair.
Additionally, steam during straightening minimizes friction between the hair and the plates, reducing static electricity and also has the ability to moisturize and hydrate the hair. Therefore, steam flat irons are the number one choice for unruly, thick, coarse, dry, or curly hair, but they are not suitable for fine hair.
The disadvantage is that they are usually more expensive, but the results are definitely worth it. See for yourself with products like Steampod 3.0 Hair Straightener, BaByliss PRO Ultrasonic Cool Mist Iron.
Infrared Heat
Infrared heat (Far Infrared) is gentler on the hair compared to conventional heat. It is a different type of heat that doesn't heat up the surrounding air.
Infrared radiation penetrates deeply into the hair instead of heating up the air, resulting in less heat remaining on the hair's surface and minimizing damage.
As a result, the hair becomes more elastic, flexible, and can be easily and quickly styled with minimal damage.
Additionally, it protects the hair from moisture loss, preventing dehydration and leaving the hair moisturized and soft to the touch.
Tip! The special hair straightener Redken Pro Restorative Hair Treatment Tool is brand new and is designed for a salon treatment cure.
Temperature Setting
Temperature adjustment is very important! Flat irons with adjustable temperature allow you to select the right heat for your hair type and style.
Temperature according to hair type:
Very fragile, brittle and weak hair: 100°C - 140°C
Fine hair: 140°C – 160°C
Normal hair: 160°C – 180°C
Thick hair: 180°C – 240°C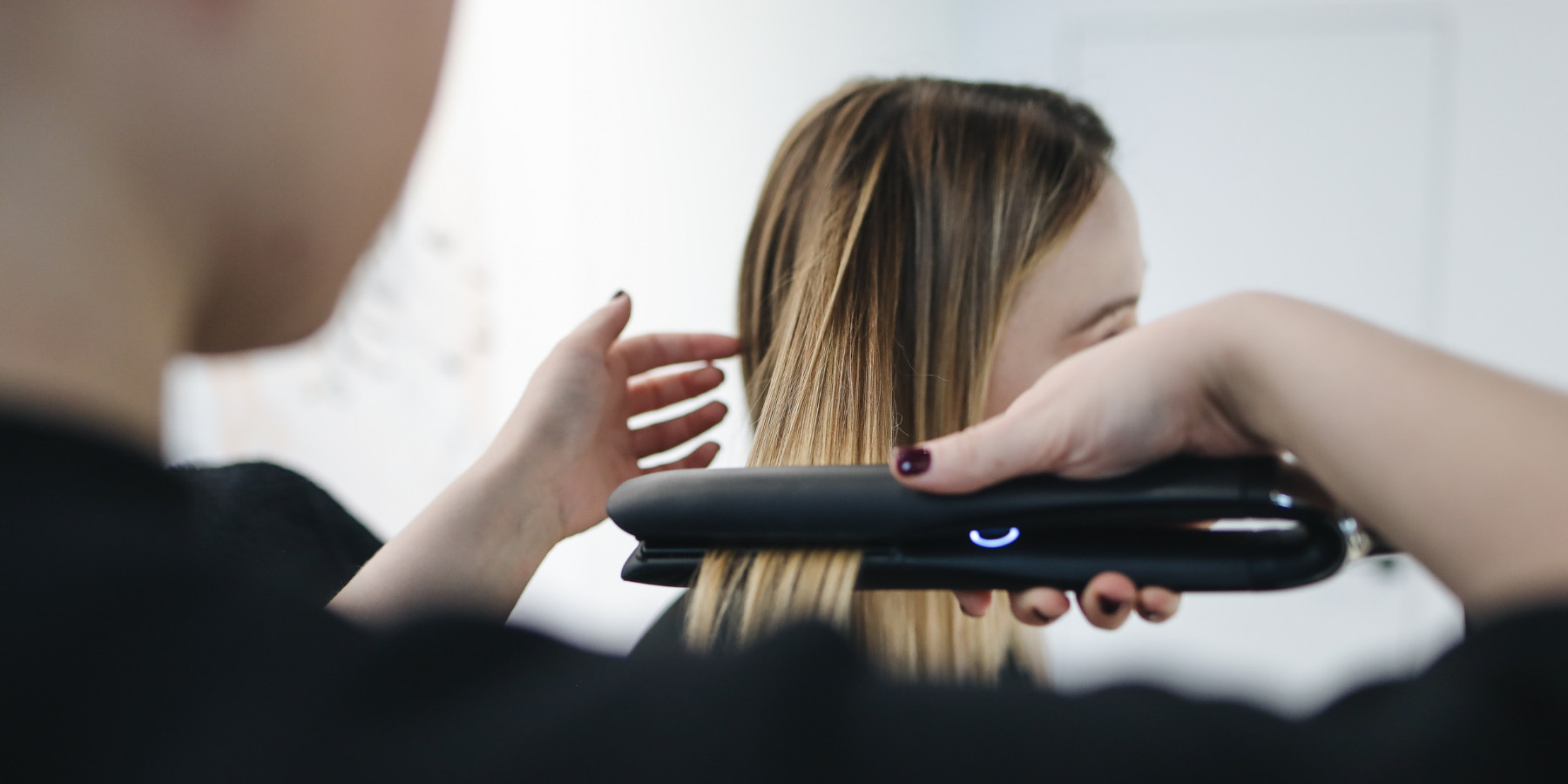 6) User Friendliness
With a good, high-quality straightener, you should also have a good working experience. Therefore, when choosing, don't forget to consider other parameters, even though they may not seem as important at first.
Friendly to use - for example: sufficiently long swivel cord (min 2 metres), adjustable temperature for more style, ergonomic design, and so on.

Heat up - most hair straightteners are ready to use in 30 seconds.

Heat protective case - to safely cover hot plates and also perfect for travelling. Can be purchased separately - e.g. ghd Curve Heat Protection Case.

Sleep mode - heaters automatically switch off if they are not used for 30 minutes.
7) Price of Hair Straighteners
Cheap flat irons are usually equipped with a metal plates that are not suitable for any heat styling! These cheap irons can severely damage your hair and the way to healthy hair is not always easy.
The price of quality hair irons ranges from € 40 to € 250 and more. Professional hairdressers and stylists usually reach for the more expensive pieces, which have a longer life and are designed for more frequent use. But for home the price of a perfect hair straightener starts at € 40.
A special category and exception to the rule are travel straighteners, which you can find of good quality even within the mentioned price range. However, they are usually not equipped with temperature control or automatic shut-off, so you will mainly appreciate these straighteners for travel purposes, but they may not be sufficient for regular home use. However, they may still be suitable for men or individuals with shorter and finer hair for everyday styling.
Glamot recommends: The best hair straighteners!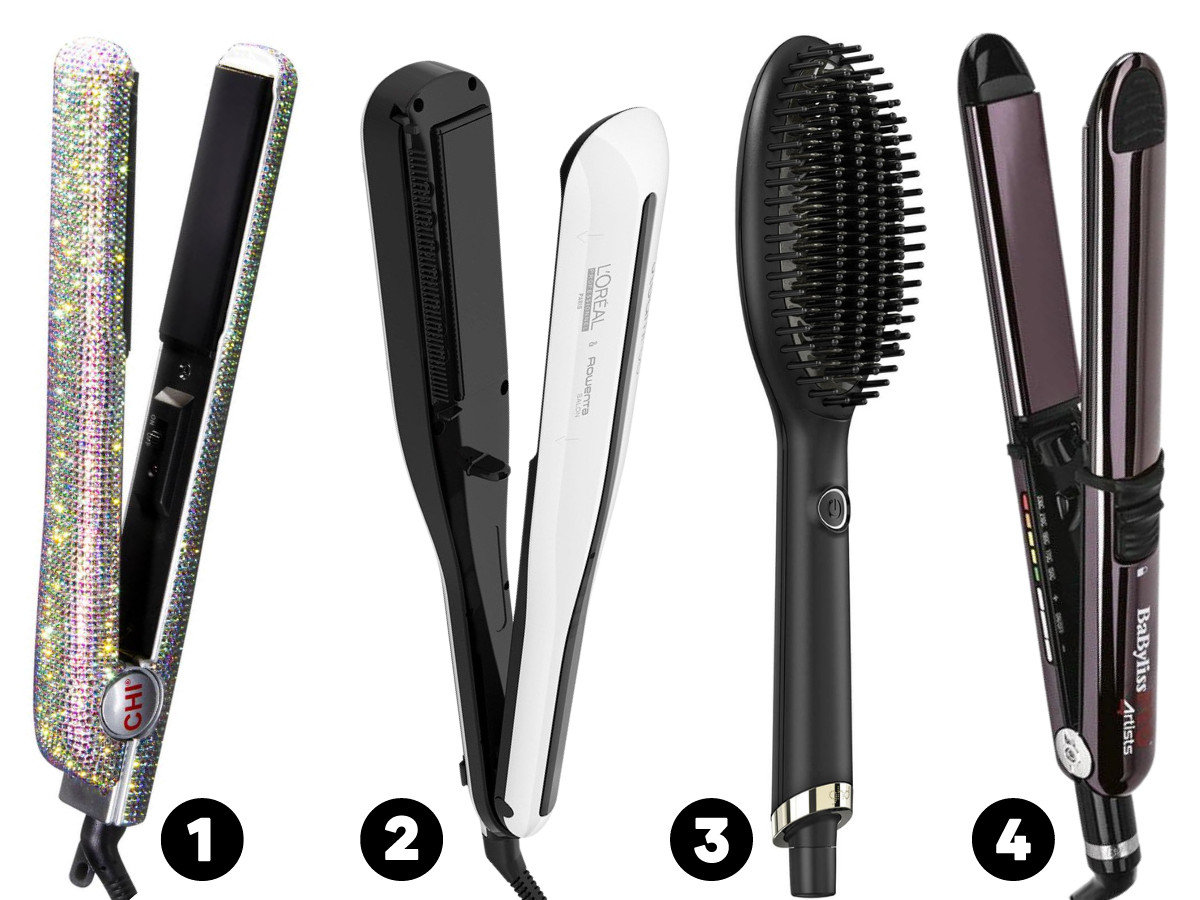 Tip! You can also use our filter - where you can set different parameters (plate surface, features, brand, etc.) depending on the iron you are looking for.