Just like skin, hair needs careful protection from the sun and fun of summer. Here are some tips how to keep your locks on form during summer!
Summer is hot, sexy, a little bit wild. And you want hair to match that mood while avoiding the down sides: sun damage, color fading, dryness, dullness. The Soleil range, a Kérastase classic updated for modern hair, lets you have all the fun of summer, while protecting your hair from its perils.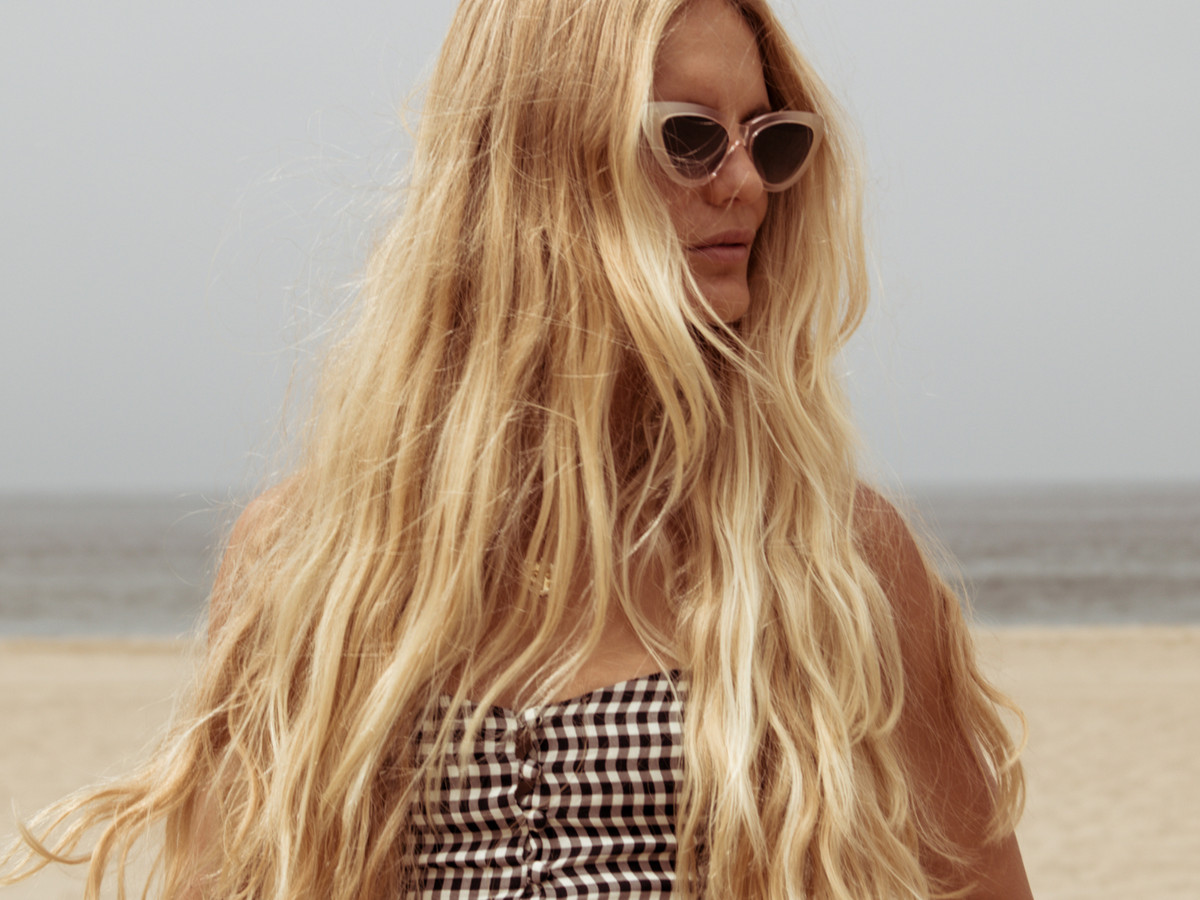 Sunshine & Hair Damage
It's no secret that prolonged exposure to UVA and UVB rays can damage your skin and the same is true for your tresses, with dry brittle strands and split ends often being the most visible symptoms. The sun's rays attack the hair and protein, also known as keratin. Regular use of flat irons, colouring treatments and exposure to chlorinated water – dip in the pool, anyone? – can also make hair more vulnerable as the damaged keratin also weaken the hair fibre, resulting in fragile strands. So, time to armour up!
Learn more about it → Sun, Salt, Chlorine: Three Summer Killers of Beautiful Hair
Protect Your Hair From the Sun
If you intend to make the most of the sunshine, make hydration your must-have, especially if you're planning on swimming in the pool or the sea. The Kérastase Soleil range is the perfect hair care range to allow you to enjoy your summer months whilst protecting your hair from the damaging effects of the sun. This hair care range also offers an anti-frizz effect with shine and detangling for beautiful summer hair.
As a pioneer in summer hair protection products, the Kérastase Soleil collection contains state-of-art technologies developed by the expertise of the advanced L'Oréal Laboratories, to help protect from summer agressors (chlorine, salt, sand, humidity adn UV rays) and beautifies your hair before, during and after sun exposure, no matter how colour-treated or sensitised your hair may be.
So whether you're spending summer in the city, or by the beach, the Soleil collection will keep your hair looking smooth and shiny even as the heat rises.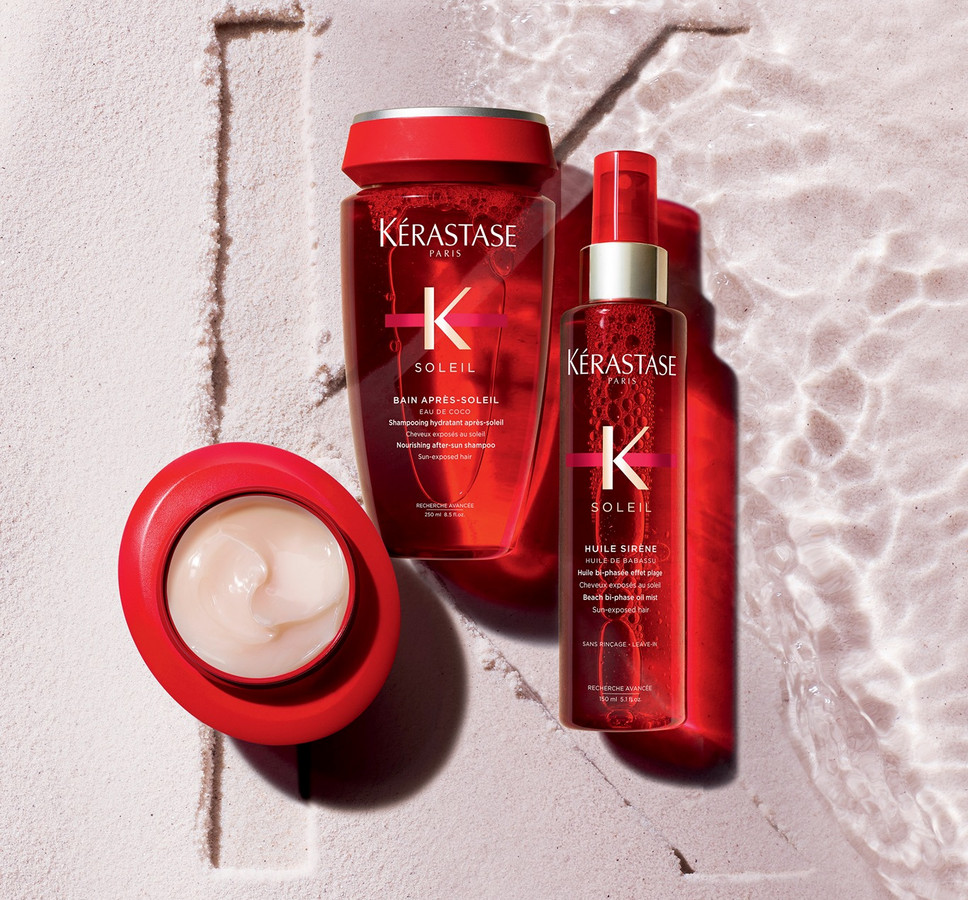 Kérastase Soleil Hair Routine
Here's how to keep your locks looking fresh and on form, for oh-so-natural style. Summer haircare has never been so easy.
1. Shampoo
A post-sun cleanse comes in the form of a clear, cool gel that removes salt, chlorine and sand residue. The Kérastase Soleil Bain Après-Soleil keeps the strands fresh while hydrating, smoothing frizz. Fragrance lingers long, leaving you with luminous hair lightly scented with summery jasmine and tuberose. Contains coconut water, vitamin E and UV filter.
2. Treat
Kérastase Soleil Masque Après-Soleil - a light-textured gel cream hair mask gives a seal of nourishing hydration to sun-exposed hair, plus anti-oxidizing elements to balance out the harsh effects of summer elements. Deep recovery imparts a uniform smoothness from root to tip, never weighing down the strands, leaving a light, summery floral fragrance behind. Contains coconut water, vitamin E and UV filter.
3. Texturize
Literally meaning "mermaid oil," Kérastase Soleil Huile Sirène is a unique hybrid of a texturizing spray and a hair oil. The bi-phase formula provides the texture of a styling solution with the protective quality of nourishing oil and the fresh fragrance of jasmine and tuberose. Beach waves are defined and texturized without the crunch of a traditional salt spray. Absorbs quickly, softens hair and imparts shine.
4. Protect
Kérastase Soleil Crème UV Sublime - a summer staple that provides all-day anti-humidity protection and intense hydration in a pearlescent hair cream. Protects against external aggressors. Prevents dryness and hair breakage, while locking in vital moisture and instantly boosting radiance.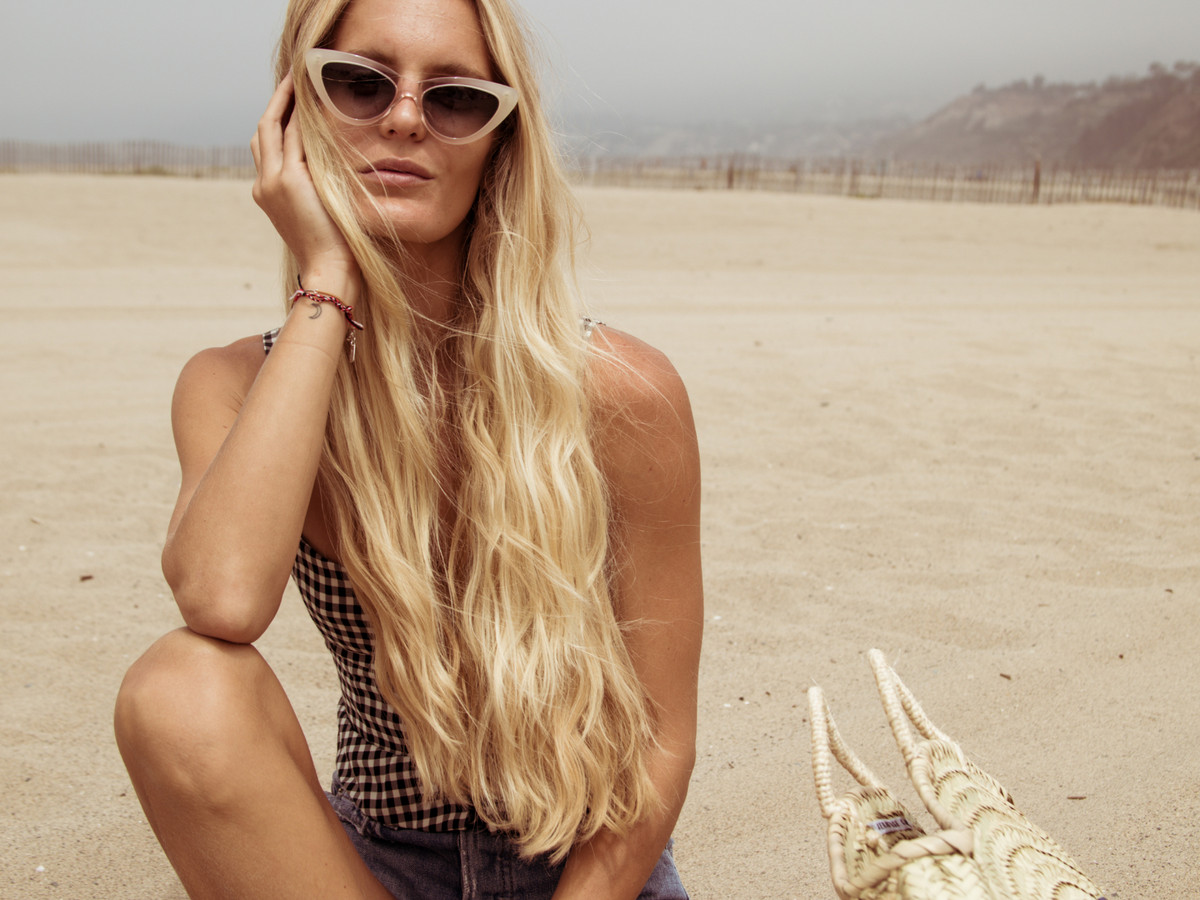 Get ready for summer season with Kérastase Soleil!