Are you looking for the right hairdressers scissors? Or do you want home hair cutting with professional result? Either way our new brand Jaguar Solingen will hit the jackpot.
Every hairdresser needs high-quality hair scissors for his work. We all know that. Maybe you might be suprised, but professional scissors are also good for home usage. Perhaps you think you can just cut your hair with ordinary scissors. That's a mistake! These scissors may cause more harm than good. Rather bet on quality - Jaguar-Solingen.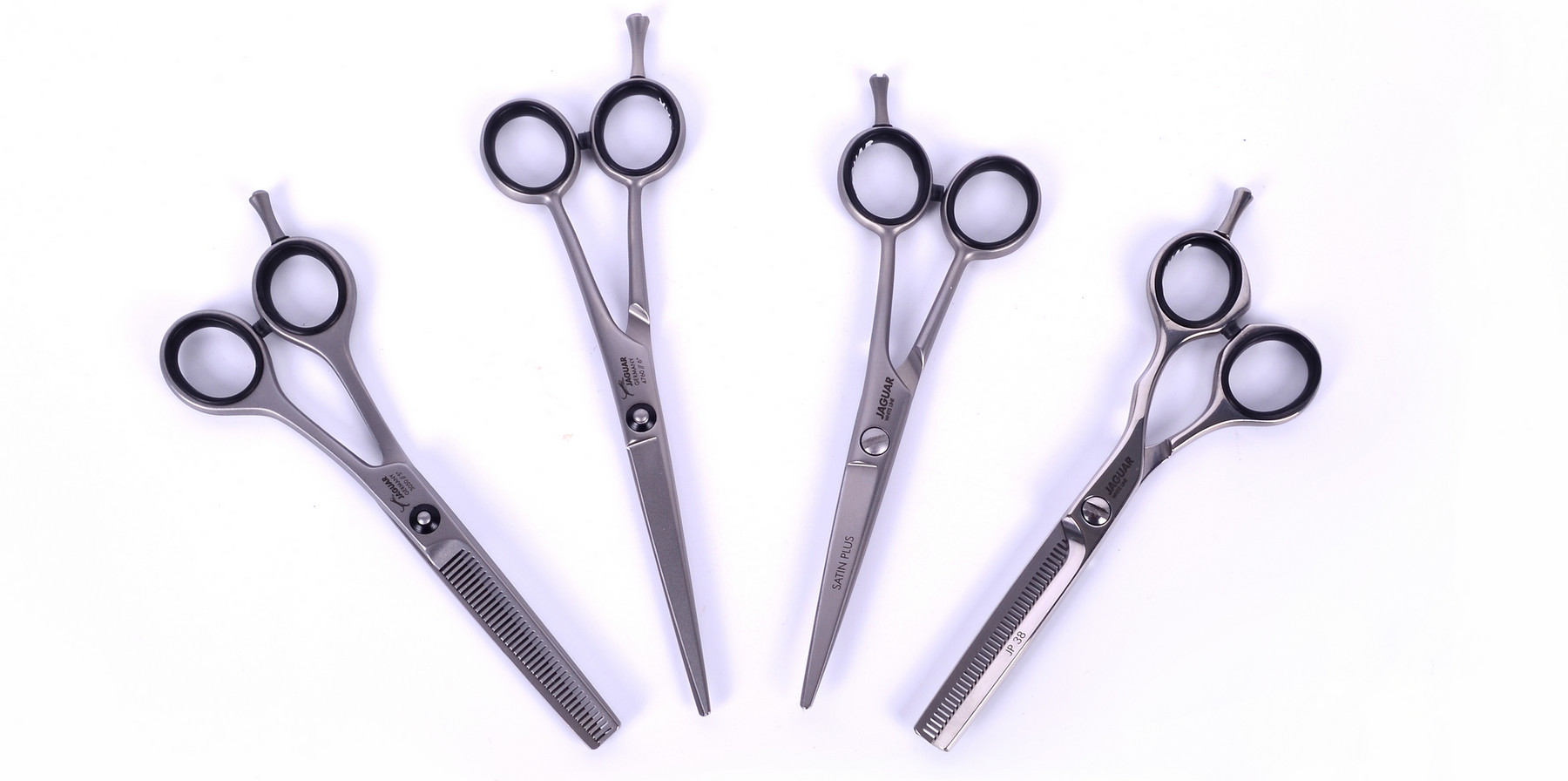 1)Jaguar White Line 3050 Satin Plus ES 40 - 5", 2) Jaguar White Line 4760 Satin Plus - 6.0", 3) Jaguar White Line 4755 Satin Plus - 5.5″, 4) Jaguar White Line 46526 JP 38 - 5.25″.
Jaguar Solingen - Scissors You Can Rely On
During a haircut, the blades open and close up to 1000 times. Jaguar scissors scissors are manufactured according to strict quality standards to make cutting an activity as relaxing as possible for the hairdresser:
selection of high-grade stainless steels,
an optimum ergonomic design,
smooth running, sharpness and handiness.
All of this is enhanced by the irreplaceable manual work of experts which requires a lot of experience and skill. Only few people can master this "art" as well as Jaguar masters. We must not forget to mention their very favorable price. No other brand offers a better price-performance ratio.

Jaguar Is a Favorite of Professionals Around the World
Jaguar's competence is a favorite of professionals in more than 80 countries worldwide. Read what the masters of their field say about Jaguar scissors:
"The work that I do requires that my shears are perfectly balanced, expertly engineered and incredibly sharp, that's why I always choose Jaguar. For built quality, balance and overall performance, in my opinion, they cannot be beaten." - Chris Moody
"I found the Jaguar Diamond to be very comfortable, well balanced and extremely sharp, ideally suited to the type of haircutting I like to do." - Lee Stafford
"Jaguar scissors feature a long-lasting quality, they lie conveniently in the hand from the very beginning. Above all, the finish of the blades offers unlimited possibilities." - Gregor Drapalla
Everyone Will Choose. Master and Hairdresser Beginner
Jaguar knows that every hairdresser is different and his needs are different too. That's why Jaguar Solingen offers scissors in several categories. At glamot.com, you can find the most popular and best-selling Jaguar scissors from the following lines:

Shop Jaguar scissors here → JAGUAR SOLINGEN