Still looking for the perfect wedding hairstyle for your day D? Get inspired by these gorgeous bridal hairstyles, that will make you an unforgettable bride.
Elegant Wedding Chignon - Classics That Never Get Old!
The most common bridal hairstyle is an elegant chignon. Whether chignon is combed up or down, you will always have a fabulous hairstyle. Chignons also are good for women with short hair. But these women have to use special a padding for a bun. You can achieve more elegance by adding wedding accessories (brooch, veil).
The chignon is perfect only precise sleek. Don't forget use a tufting hair brush, that smooth your chignon hairstyle perfectly. For even better results, give a good dose of hair gloss and hairspray.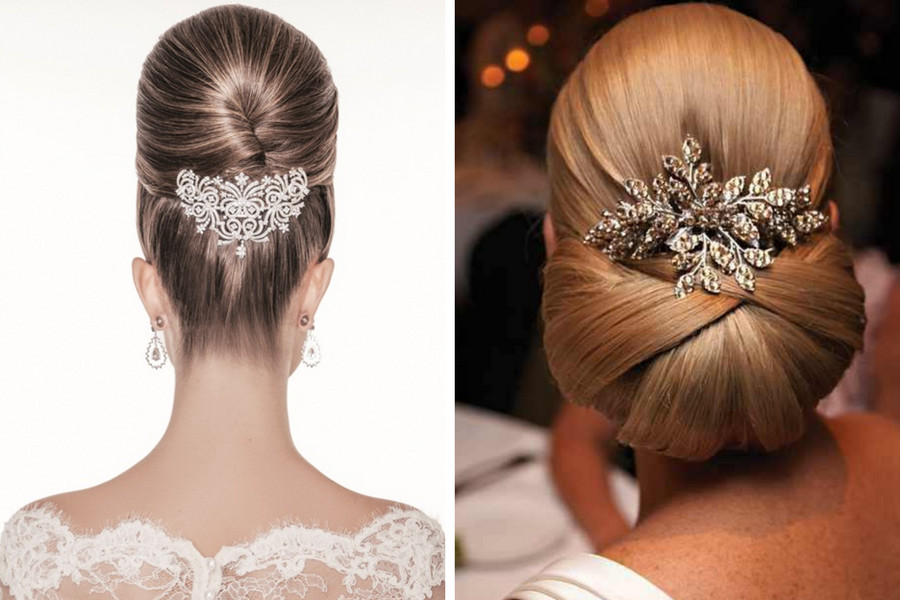 Wedding Hairstyle Full of Braids - This Year They Lead On a Full Line!
If we had to choose one trend that prevails over all the other wedding hairstyles, we would choose braids. Bridal braids lead on a full line this year. And no matter which style of braids you choose. All styles of braids are popular.
Prepare a lot of hair u-pins and mini bands, because you will need them the most.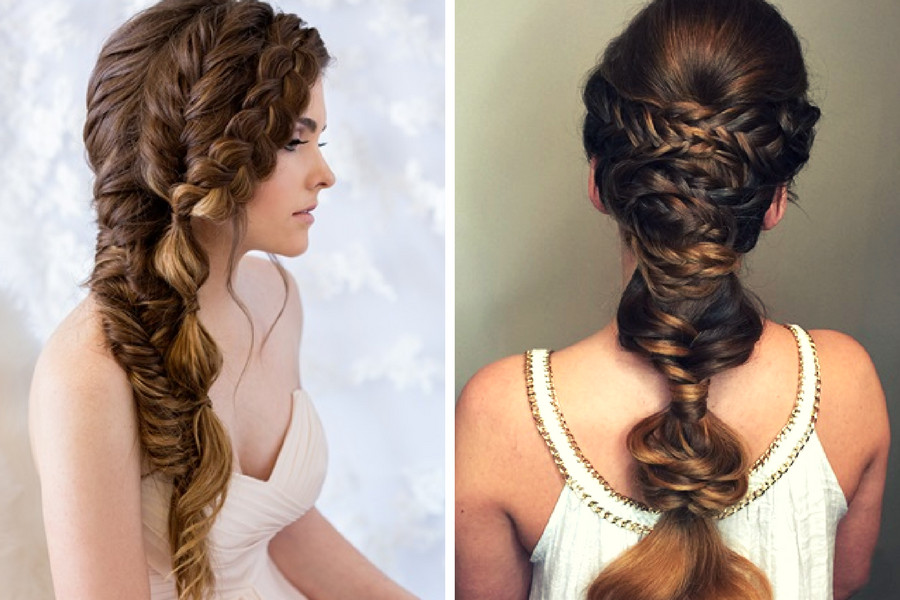 Braided Chignon
Braided chignon is our love at first sight. It is most popular not only among brides but also among bridesmaids. Do you ask why? It is simple. Braided chignon provides many variations, so every woman will be unnique.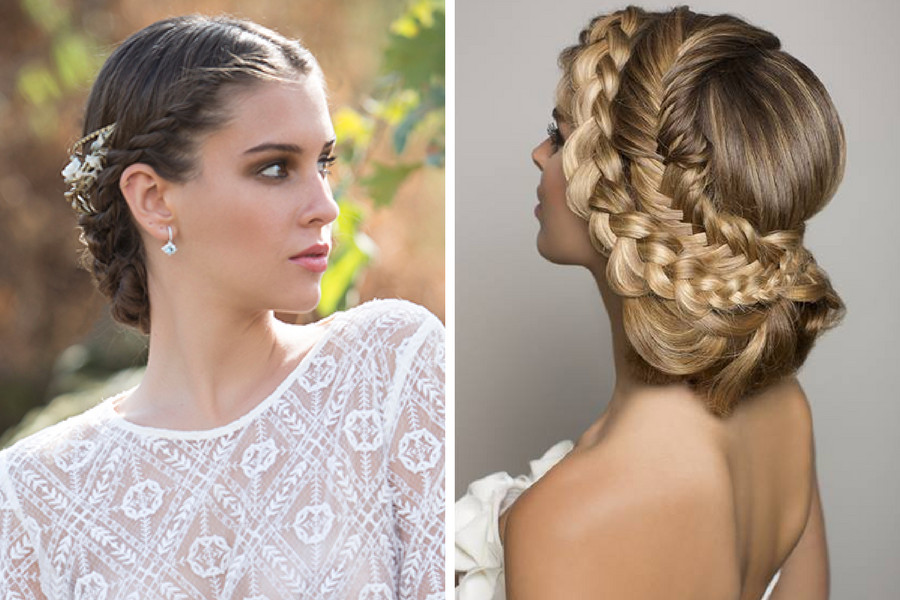 You can choose also more loose braided chignons. And when you add some gold accessories or green leaves, you'll be like a Greek goddess.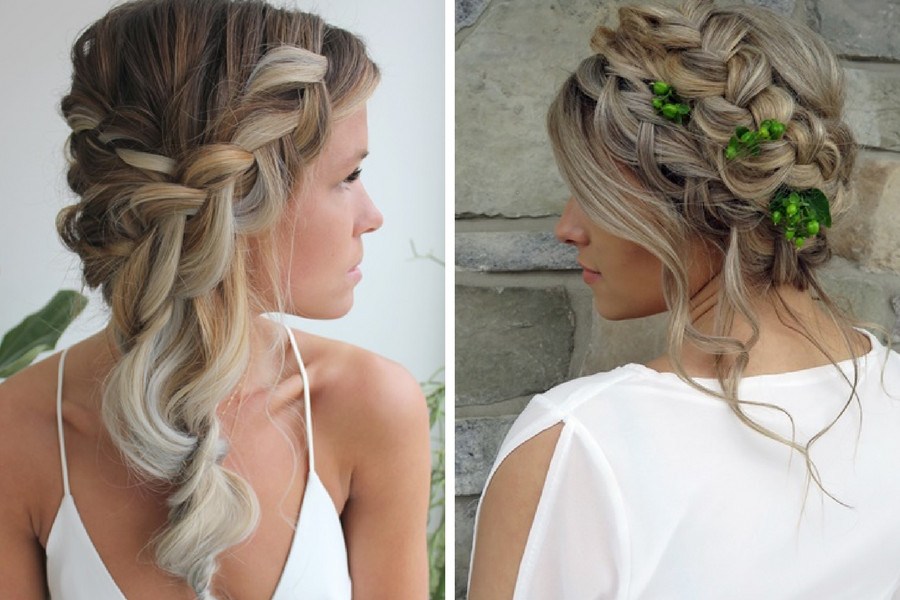 Braid & French Braid
One braid is a classic. But braver brides can afford to risk and entangle more braids. Add some hair accessories and you can ready get married.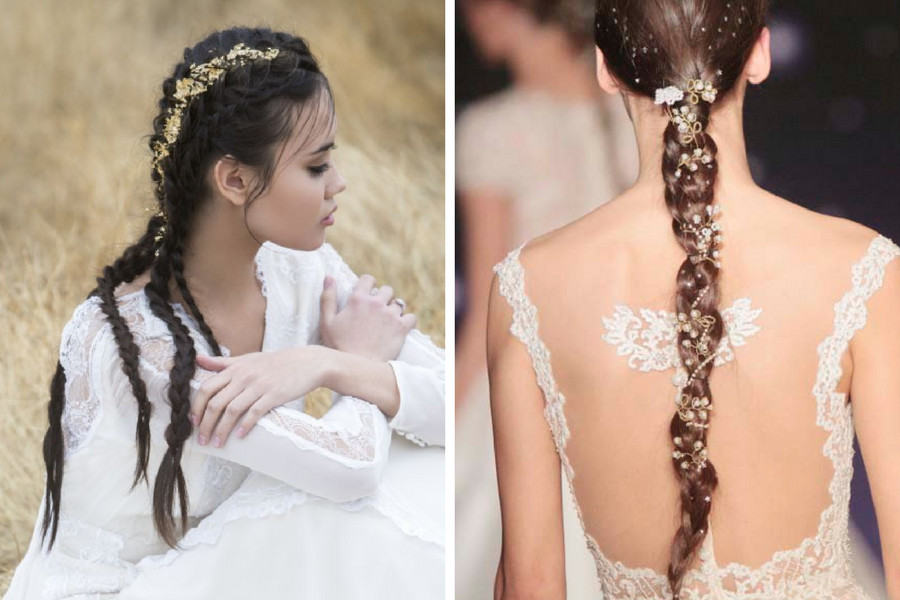 Flowers In The Hair - Only For a Romantic Bride?
Every bride can afford to be romantic on her wedding day. And what other than flowers does give a romantic touch? Nothing! Very popular are floral wreaths, bridal flower crown or floral half wreath. And what's great? You can make them yourself at home.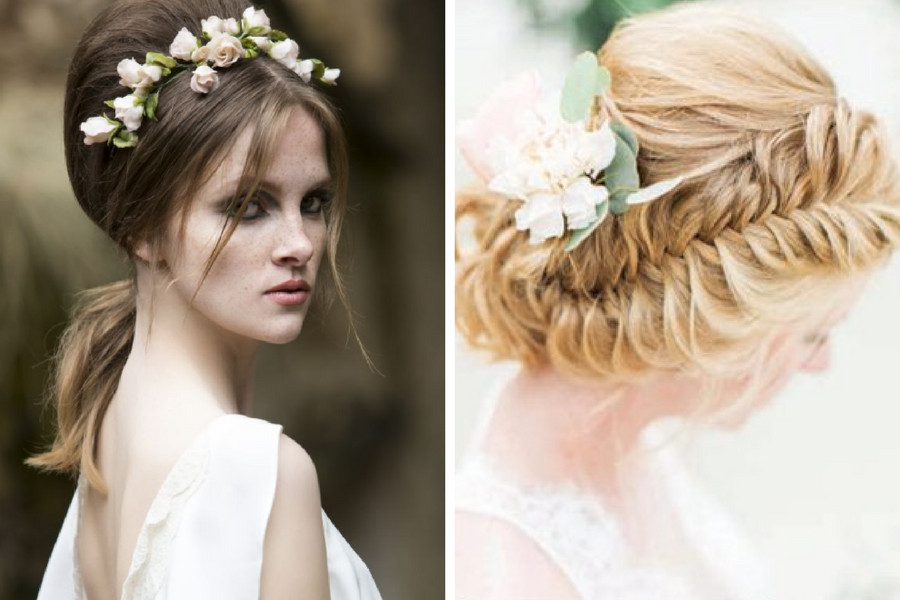 A fresh rustic wedding will bring hairstyles full of field flowers and other natural decorations. Green flower dominates, but bridesmaids and other wedding guest can also bet on sharper flower colors.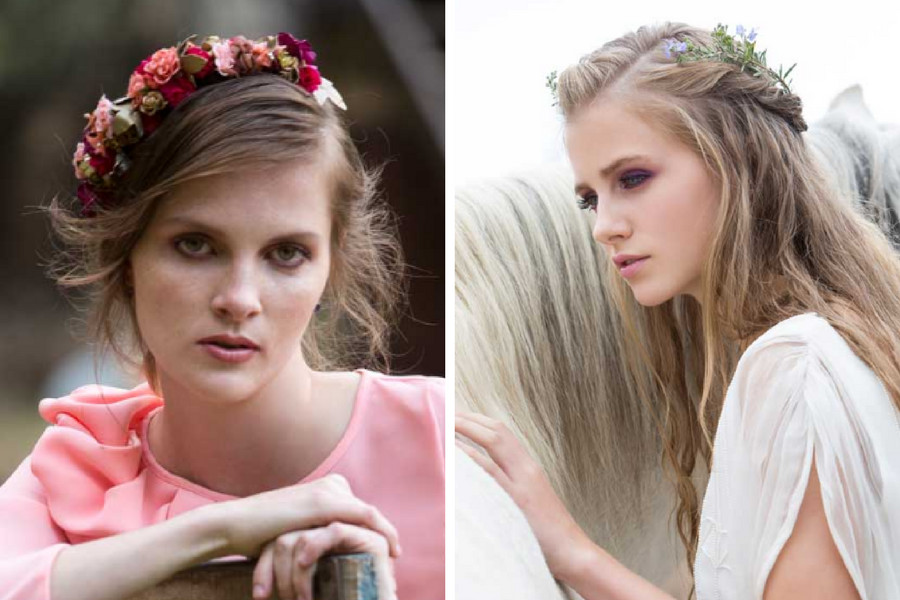 Spice Up Your Bridal Hairstyle!
Wedding headbands, brooches, buckles, bands or crowns have long had been their place among wedding accessories. But consider their choice! Every hairstyles, dress or wedding type is different.
Brooches and crowns are best for gorgeous or royalty bridal styles. Tell yourself, which woman wouldn't want to become a princess?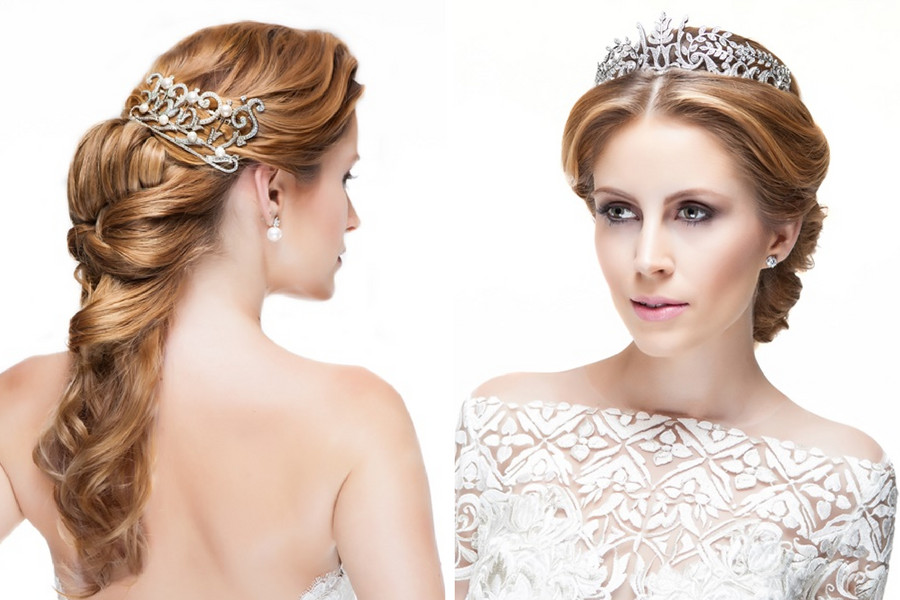 Beads or flowers are a great choice for more gentle bride types.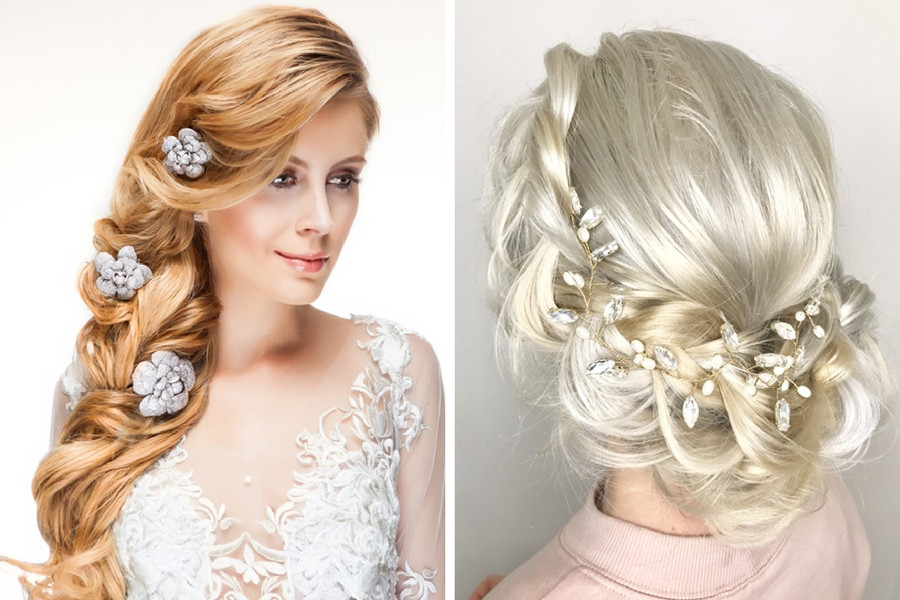 Half-Up Wedding Hairstyle - Combed, Uncombed?
Do you like a half-up hairstyle? Do you feel better with that? You can have a half-up hairstyle even on your wedding day! Turn a pair of hair back with staples or rubber bands, gently curling your hair with a curling iron or add a pearl headband and a wedding look is ready.
Simplicity is the key to beauty, right?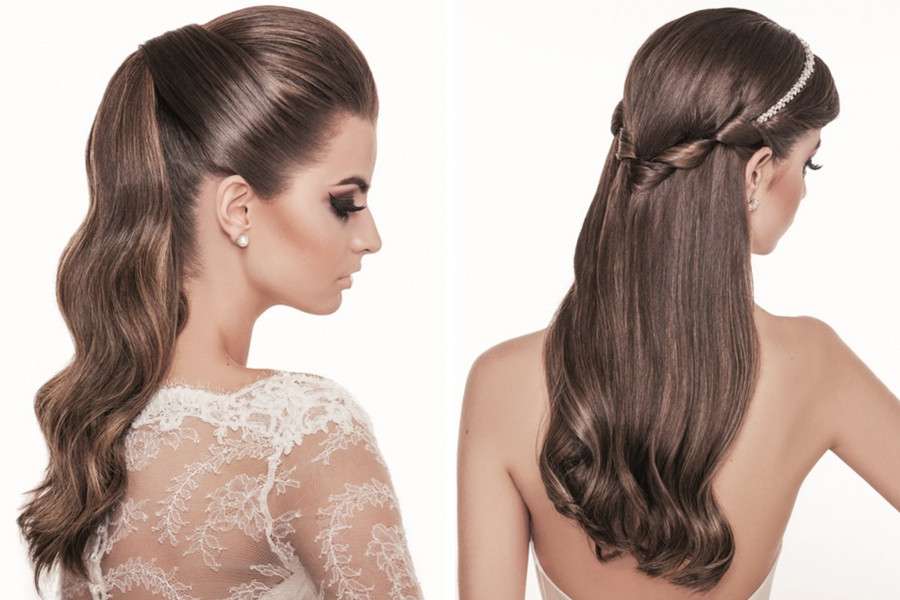 Wedding Waves - Delicately & Glam!
Can't you find the right wedding hairstyle? Bet on waves! Any wave style is perfect for all. A what else is great? This style is very easy! You will need only a quality curling iron or air curlers and styling products.
Soft waves best emphasize the fragile soul of every bride. For this style, use a big curling iron, for example: ghd Curve Soft Curl Tong 32mm or BaByliss PRO Digital Iron Spring 38mm.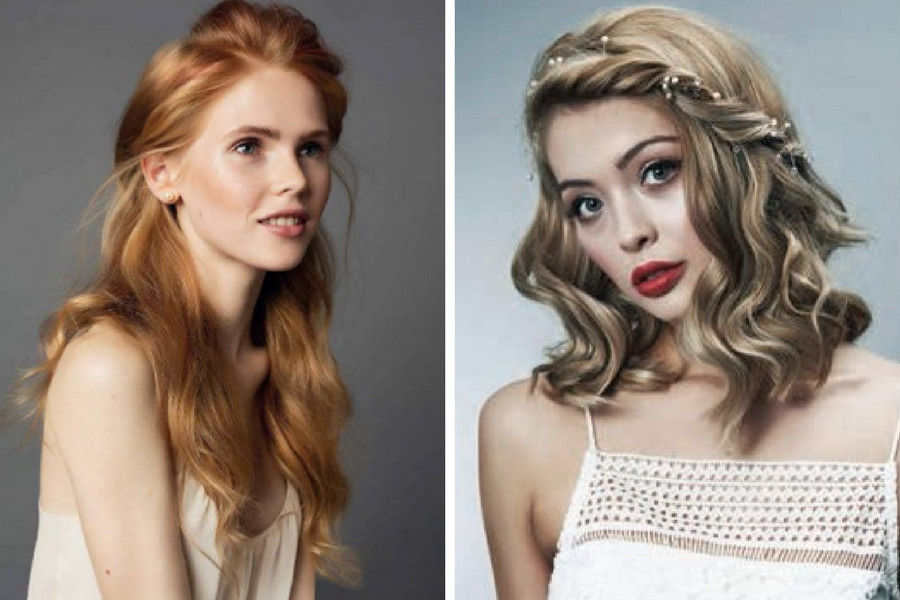 Finger waves were popular in the 20's. But finger waves are back. Now, in a more modern version - finger waves updo. You can create these waves with a special triple barrel waver BaByliss PRO/label.m or with Kevin Murphy Wave Clips.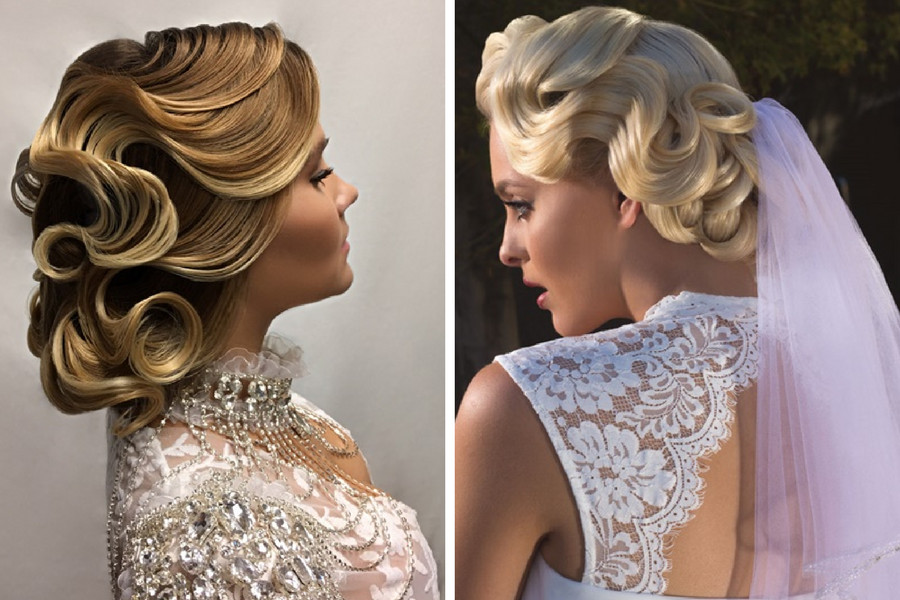 Celebrity Wedding Hair Style
Famous brides love wedding veils!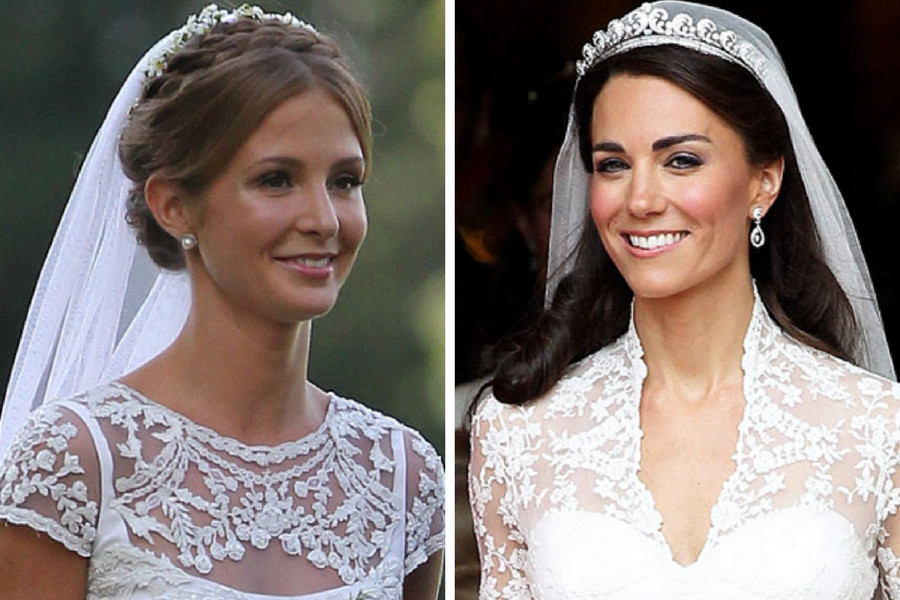 Celebrity often also bet on decorative wreaths or headbands.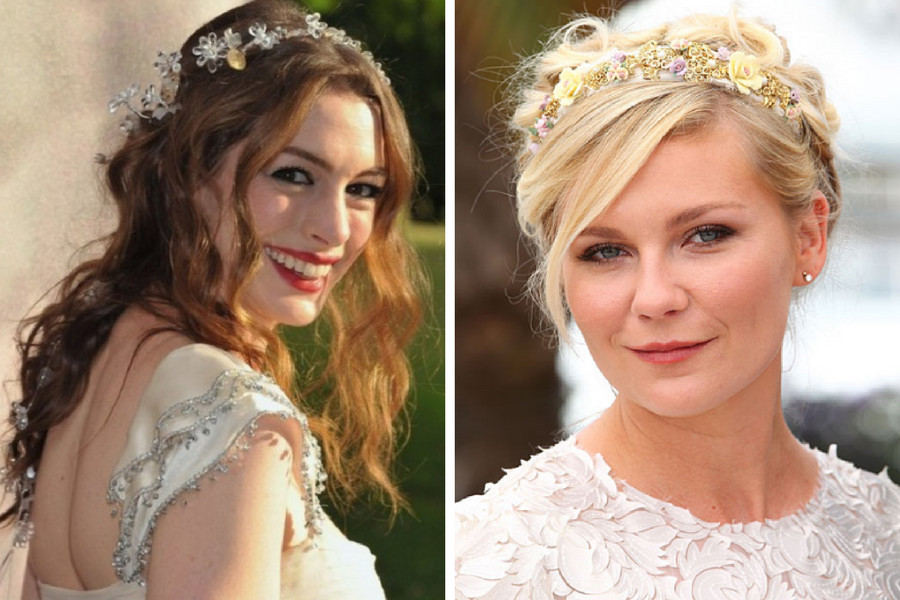 Do you know which wedding hairstyle is the right for you? :-)