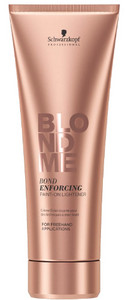 Schwarzkopf Professional BlondME Paint-On-Lightener
Description
Ammonia-free cream lightener
Ideal consistency for on-trend freehand application
Up to 7 levels of lift
Gentle formulation with protective oil
How to use
Preparation: Apply to dry hair, do not shampoo before use.
Mixing: Prepare Blondme Paint-On Lightener and Blondme Premium Care Developer in mixing ration 1:2. If thicker consistency is needed, use a mixing ration of 1:1,5. Recommended developer strength 2%/7Vol., 6%/20Vol. Always mix Paint-on Lightener and Developer thoroughly until a homogeneous cream is achieved.
Application: Appy the mixture immediately after preparation. Use plenty of product to ensure best possible lifting effect and equalization. Avoid overlapping application to previously lightened hair.
Development time: 20-45 min at room temperature. Visually check development during processing time.
Rinsing: Emulsify and rinse thoroughly, shampoo and treat with Blondme Care products.